RIT Students to Showcase Their Innovation to the World
Team is the winner of the Microsoft Imagine Cup's U.S. Software Design Invitational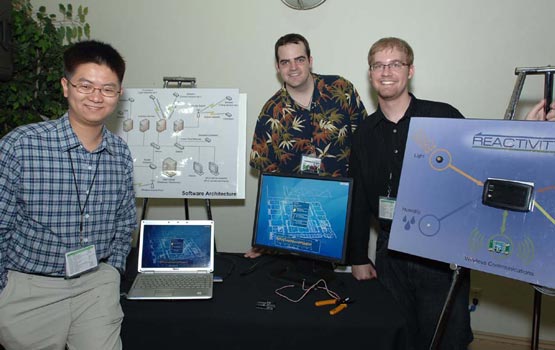 Submitted by Microsoft Corp.
A Rochester Institute of Technology student team has won the Software Design Invitational at Microsoft's U.S. Imagine Cup finals April 22 in Los Angeles. The team competed against 154 teams from throughout the United States and will represent the nation in the world finals this July in Paris. Team members Ziyan (Joe) Zhou, Adam Risi and Zachery Shivers will share a $12,000 cash prize.
The students programmed and configured a network of sensors to take readings of such environmental variables as temperature, humidity, carbon dioxide and carbon monoxide, and set the system up to be accessible via cell phone.
"I would like to congratulate Joe, Adam and Zachery for this tremendous accomplishment and wish them the best of luck this summer in Paris," says RIT President Bill Destler. "The system they have developed could have major implications for the advancement of portable remote-sensing technologies and exemplifies the tremendous talent and ingenuity of our student population."
"The Imagine Cup is all about igniting the imagination of tomorrow's technology visionaries and leaders, and inspiring them to harness the possibilities of technology to build a better world," adds Dan'l Lewin, corporate vice president of strategic and emerging business development at Microsoft Corp. "The contest provides student inventors and entrepreneurs with a launching pad for their ideas and access to key resources that can set them on the path to career success."
This is the second year in a row an RIT student will participate in the Imagine Cup World Finals. In 2007, Zhou was part a four-person team that developed a software application, utilizing social-networking technology, to assist in foreign language instruction. The team also included students from Western Washington University, Texas A&M University and McGill University and competed in the software design category.
"I am thrilled to have a second chance to compete in the Imagine Cup World Finals, and I am incredibly pleased that the judges believed our project was worthy of inclusion," adds Zhou, a third-year computer science major. "The Imagine Cup event is like the Olympic Games, bringing together the best student researchers from around the globe, and I am truly honored to have had not one but two opportunities to participate."
The Microsoft Imagine Cup, founded in 2003, is one of the premier student design competitions in the world, featuring teams from a host of international colleges and universities that compete in nine categories related to science, engineering and computing.
Note: Rochester Institute of Technology is internationally recognized for academic leadership in computing, engineering, biotechnology, imaging technology, and fine and applied arts, in addition to unparalleled support services for students with hearing loss. More than 15,800 full- and part-time students are enrolled in RIT's 340 career-oriented and professional programs, and its cooperative education program is one of the oldest and largest in the nation.
For nearly two decades, U.S. News & World Report has ranked RIT among the nation's leading comprehensive universities. The Princeton Review features RIT in its 2007 Best 361 Colleges rankings and named the university one of America's "Most Wired Campuses." RIT is also featured in Barron's Best Buys in Education.
Topics