RIT team a finalist in challenge against terrorism
Team to present social media campaign 'ExOut Extremism' at the State Department on Monday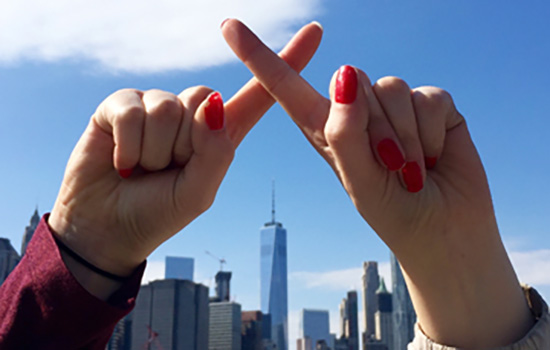 Can the obsession millennials have with smart technology be capitalized on as a weapon against terrorist propaganda? The U.S. Department of State thinks so and has selected three teams of student finalists—chosen from 56 universities around the world—to its headquarters in Washington, D.C., next week for the "Peer-to-Peer: Challenging Extremism" challenge.
The lone team from the United States is a group of newly minted college graduates from Rochester Institute of Technology who developed a social media campaign called "It's Time: ExOut Extremism." The students, led by Adriana Bóveda-Lambie, assistant professor of marketing at RIT Saunders College of Business, worked with the Muslim community of Rochester, N.Y., and worked to promote their ideas of fighting terrorism by empowering the silent majority through Facebook and other platforms.
The finalists' digital media presentations begin at 2:30 p.m. Monday, June 27, at the George C. Marshall Center, 21st Street and Virginia Avenue NW. The panel of judges for the competition includes dignitaries from Facebook, the U.S. Department of Homeland Security, the Combating Terrorism Technical Support Office, the National Counterterrorism Center, and the U.S. Department of State.
On a national level, RIT competed against several universities which received honorable mentions in the extremism challenge: University of California, Berkeley; University of Southern California; Miami University; Oxford; Ohio; New York University; and the University of Mississippi.
The P2P: Fighting Extremism initiative is a U.S. government effort led by the State Department, Department of Education and Cultural Affairs, and is managed by EdVenture Partners and supported in part by Facebook.