RIT teams place first, second in marketing competition
American Marketing Association's Student Marketing Competition yields $1,000 and $600 prizes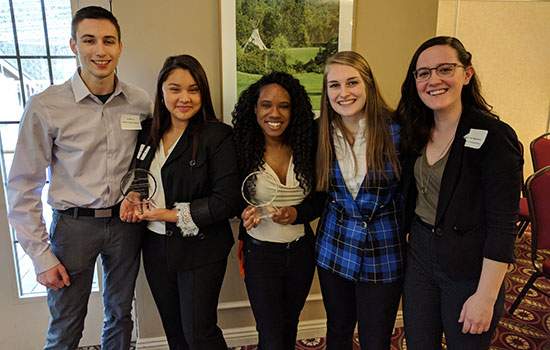 Mike Johansson
Two teams of students from Rochester Institute of Technology took first and second place Friday in the fifth annual Student Marketing Campaign Competition hosted by the local chapter of the American Marketing Association.
A team from RIT's Saunders College of Business finished first, and a team from RIT's School of Communication finished second. Teams were tasked to come up with a marketing campaign to make financial firm Charles Schwab & Co. more known to millennials.
Members of the Saunders team were Joe Morone, a fourth-year marketing major from Spencerport, N.Y.; and Maria Tovar, a third-year new media marketing major from Rochester.
"It feels good," Morone said. "We worked hard. Our team was just an extension of the RIT marketing curriculum. We stuck to what we were taught and we won."
Tovar said the competition was "an amazing opportunity."
The team won $1,000, which will be used by the Saunders Marketing Club to further develop the club's educational opportunities.
"Joe and Maria did an outstanding job on the case analysis, submitting an entire marketing plan including a primary market research effort where they went out and surveyed students directly to get their perspective on Charles Schwab," said Senior Lecturer Laura Dwyer, the team's faculty adviser. She said the judge, Schwab's marketing vice president from the company's headquarters in San Francisco, "turned that information into an insightful analysis with creative strategy recommendations."
Members of the School of Communication team were Andrea Hubbard, a third-year advertising and public relations major from Syracuse, N.Y.; Grace Blondell, a second-year individualized study major from Newark, N.Y.; and Abi Van Nostrand, a fourth-year new media marketing major from Ballston Lake, N.Y.
Their team won $600.
Senior Lecturer Mike Johansson, faculty adviser for the School of Communication's team, told students their work in the competition will look good on their résumés, but "the lessons learned from taking part in and preparing for the competition and attending the conference will serve you for an even greater part of your life."
The competition was held at Brook Lea Country Club in the Rochester suburb of Gates during a day-long conference hosted by the local chapter of the American Marketing Association.