RIT Tiger Trail women return from nine-state relay
Members of the women's track team raised awareness and money for tiger conservation
Kyle Hofsass
After eight days, nine states and 1,400 miles, 15 past and present members of RIT women's cross country and track and field squads arrived home Sunday morning on the RIT campus.
Family members, friends, supporters, faculty and staff cheered them on the Quarter Mile as the runners ended their epic run, breaking through their finish line at the Tiger Statue.
"That was awesome, seeing everybody wearing their orange at the finish line," said runner Jeri Beiter, a first-year chemical engineering major from Lima, N.Y.
The runners spent their spring breaks on the relay starting March 21 at Auburn, Ala., visiting six other colleges with tiger mascots along the way. Dubbed the Tiger Trail, the run was to raise awareness and funds for the Tigers for Tigers Coalition, which helps conservation efforts in protecting the 3,200 wild tigers in existence.
"Thank you for representing us so proudly, and welcome home," said RIT President Bill Destler, who greeted the team.
Matthew Partacz, vice president of RIT's Tigers For Tigers Coalition and a fifth-year mechanical engineering major from West Seneca, N.Y., said the relay helped "start a conservation revolution" by raising awareness. The women were featured in several newspapers, radio and television stories, including Runner's World.
The women's coach, Dave Stevens, who drove one of the two RV's on the trip, also ran one leg with each of the runners. He became emotional when talking about the trip, saying their journey of the past week will be a lot like their journey of their lives to come.
"On that journey, you're never going to know when you turn a corner and you're faced with a 1 ½-mile hill that lies ahead or if it will be down hill or smooth sailing, you never know when you're out if there will be lightning or snow or being chased by a dog at the North Carolina state line, you're never know what's going to happen. The most important part is just keep going forward, try to move the baton. If you stand idle, you aren't going anywhere."
Lou Spiotti Jr., RIT's director of athletics, sent a congratulatory message to the team from South Bend, Ind., where the men's hockey team was playing in the Midwest semifinals.
"What you have done is nothing short of a championship performance," Spiotti said in his message. "What you did, no one can ever take away from you. What you did will forge you together as a family forever."
Each woman brought two pair of running shoes for the trip and took turns logging three-mile legs — totaling just less than 100 miles each over eight days. They managed to eat, sleep and go to the bathrooms where they could, and occasionally got a treat of a shower when visiting supporting colleges along their route.
Other than aching shins and a mild case of pinkeye, everyone fared well and said without hesitation that they'd do it again.
Runner Kelly Weiskittel, a first-year microelectronic engineering major from Walden, N.Y., said she was amazed by the number of strangers who clapped for them along the route and gave them snacks and encouragement. Alumni tracking their route on their website began joining the run for support for a few miles beginning in North Carolina. Once, a motorist pulled over, got out of his truck and applauded as the runner ran by. And a New York State Trooper gave them two cases of water in Otsego County.
"All of the people we met on the street and who found us on social media helped us push through," Weiskittel said.
"You fulfilled a dream, you all are safe and you are home," said Heath Boice-Pardee, associate vice president for Student Affairs. "Welcome home."
Visit the National Tigers for Tigers Coalition website for more information.
Video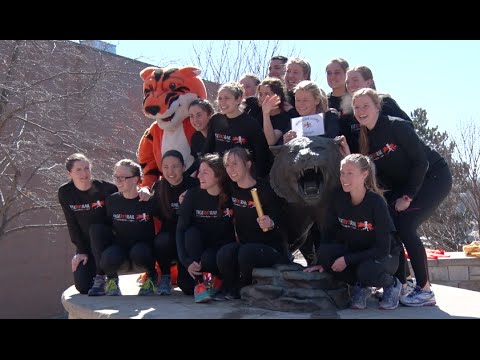 Topics