RIT unveils apps for Android, Apple mobile devices
Free apps feature news, searchable campus map, events calendar, lab hours, bus schedules, dining information and more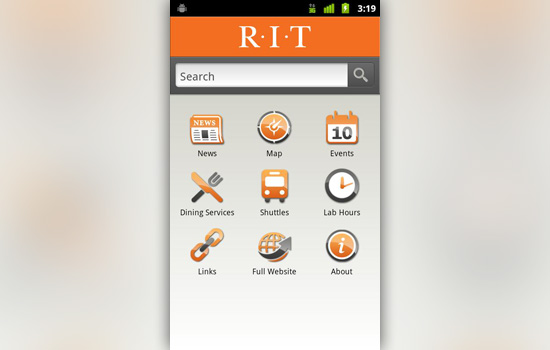 Official RIT mobile apps are now available for Android and Apple iOS devices.
The apps feature RIT news (separated into categories); a searchable campus map; an events calendar (also separated into categories); lab hours; RIT and RTS shuttle-bus schedules; dining-services locations, hours and menus; and more.
The apps are available for download from the Android Market and the iTunes App Store.
In the near future, a special section showcasing apps created by students and others (such as the Tiger ROAR app) will be added. Students majoring in interactive games and media, in the B. Thomas Golisano College of Computing and Information Sciences, will develop interactive mobile apps as part of rich-media coursework that will help prepare them for positions in mobile-application development.
"Students want information at their fingertips, and we are constantly looking for ways to improve the student experience and services," says Jeanne Casares, RIT chief information officer.
"As an international student, I use the bus schedule for making travel around RIT and Rochester easy," says Talha Khopekar, an information technology graduate student. "I like the dining-services information because it gives me plenty of vegetarian options throughout the campus."
Earlier this fall, the university unveiled a mobile-friendly website compatible with a variety of mobile devices and offering easy access to a wide range of similar information.
Last spring, more than 1,100 RIT students, faculty, staff and alumni responded to a survey asking about how they use mobile devices and what features would be most important to them. Results identified information about classes, dining services, events and lab hours, along with news, bus schedules, a directory and campus map as desirable content.
"I think the RIT mobile website is pretty cool," says Shaoming Liu, an industrial and systems engineering graduate student. "It's easy to read and the icons are clear. It makes browsing on my phone easy."
Adds Lynn Michels, a fourth-year information technology major: "The mobile website is convenient for finding buildings and locations. Bus schedules are at your fingertips. Places to eat, as well as days and hours they are open, are also easy to find. It's simple and easy to navigate. It has all of the important links quickly available to find."
The mobile-Web and mobile apps projects were led by representatives from RIT Admissions, Development and Alumni Relations, Information and Technology Services, Student Government, University News Services, University Publications and The Wallace Center. Modo Labs, a Massachusetts-based mobile design and development firm, assisted in the initiative.
Feedback is welcome at webmaster@rit.edu.
Useful links:
Android mobile app
iOS mobile app
RIT mobile Web
Tiger ROAR app
Topics