RIT unveils Battery Prototyping Center
New center will work with companies and universities to develop next generation batteries and capacitors, in demand for consumer electronics and other applications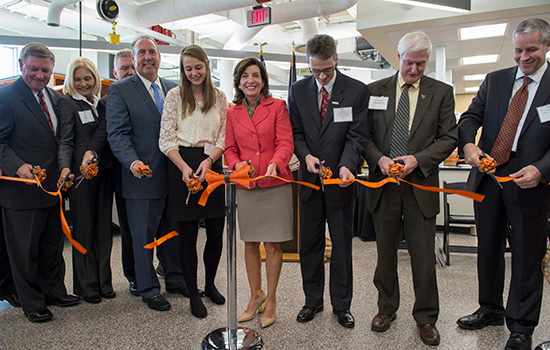 David Wivell
State officials and industry executives joined Rochester Institute of Technology in unveiling its new Battery Prototyping Center, a $1.5 million state-of-the-art facility that will conduct research and work with companies in this rapidly growing local industry.
Following the ribbon-cutting ceremony, RIT offered tours and hosted nearly 50 industry executives for a workshop on how they can use the new center.
The center, located in RIT's Institute Hall, will work with companies on prototyping the next generation of rechargeable batteries (such as lithium ion) in an industry-recognized size typically used in consumer electronics, including cell phones. While ultimate applications for these new batteries will include electric grid and transportation storage, this size is a recognized standard for testing and evaluating new prototypes. Companies can either use the laboratory's equipment to conduct their own trials or hire RIT to do the work.
RIT's Battery Prototyping Center was made possible by support from New York State Energy and Research Development Authority (NYSERDA), Empire State Development (ESD), the state's economic development agency, and the New York Battery and Energy Storage Technology Consortium (NY-BEST).
"The Battery Prototyping Center at RIT will be a tremendous resource to startups, established companies and researchers seeking to prototype a wide range of battery materials," said Ryne Raffaelle, RIT vice president for research and associate provost. "We are proud to be part of the growing energy storage ecosystem in New York state and grateful to our partners at NYSERDA, ESD and NY-BEST for their support in making this facility a reality."
The center is part of a plan to establish a comprehensive battery and energy storage hub in the region, a priority of the Finger Lakes Regional Economic Development Council.
"The Finger Lakes Regional Economic Development Council is pleased to support efforts to translate the scientific discoveries and expertise of our region's research universities into the next generation of innovative products," said Finger Lakes Regional Economic Development Council Co-Chairs, University of Rochester President Joel Seligman and Wegmans Food Markets CEO Danny Wegman. "The RIT Battery Prototyping Center complements the NY-BEST Commercialization Center at Eastman Business Park, which is an exciting venture driving economic activity and creating jobs in the Greater Rochester area."
NYSERDA, through NY-BEST, provided $750,000 support for the center. NY-BEST is a nonprofit corporation established with support from NYSERDA to position the state as a global leader in energy storage technology, including applications in grid storage, transportation and power electronics. NY-BEST and its operating partner, DNV GL, provide battery and energy storage technology testing and commercialization resources at the BEST Test and Commercialization Center at Eastman Business Park, enabling new batteries prototyped at RIT to be quickly tested nearby.
"RIT's Battery Prototyping Center highlights Governor Cuomo's commitment to developing a clean energy ecosystem in the Finger Lakes region that is providing compelling solutions to the challenges of energy storage," said NYSERDA President and CEO John B. Rhodes. "The center will provide companies throughout New York state, from start-ups to those already established, the ability to test and prototype the most promising battery materials and accelerate our path to a cleaner, more affordable and more reliable energy system."
"NY-BEST is delighted to partner with New York state and RIT on the new Battery Prototyping Center," said William Acker, executive director of NY-BEST. "The new center will complement the services provided at the BEST Test and Commercialization Center and provide needed prototyping capabilities to companies, researchers, and entrepreneurs who are working to advance the battery industry. By filling critical gaps in the product development and commercialization process, the center will become an important component of the state's robust battery and energy storage ecosystem, and further support the growth of this burgeoning global industry in New York state."
ESD is providing up to $400,000 in an incentive proposal grant, in recognition of the center's importance to regional economic development.
"The new Battery Prototyping center will serve as a bridge between academic research in the field of energy storage and the development and commercialization of these technologies," said ESD Acting President, CEO & Commissioner Howard Zemsky. "Congratulations to RIT on this milestone and I'm looking forward to the new economic opportunities that its center creates."
Several companies have already inquired about working in the RIT Battery Prototyping Center, which will be directed by RIT research scientists Christopher Schauerman and Matt Ganter, Raffaelle said. They will also conduct grant-funded research at the center and will be developing a course to train students in the growing battery industry and educate faculty on the lab's capabilities.
"The Greater Rochester, N.Y., region has a long history of material and precision manufacturing expertise to support its growing energy innovation ecosystem," said Mark S. Peterson, president & CEO, Greater Rochester Enterprise. "RIT's new Battery Prototyping Center will further enhance our region's ability to provide alternative energy companies with world-class testing and validation of energy storage solutions."
The Battery Prototyping Center also drew the praise of several of the Rochester area's state delegation.
The center consists of conference, office and storage space, as well as a state-of-the art dry room, the industry's equivalent of a "clean room," where batteries can be manufactured. Moisture and humidity are very damaging to battery performance, so the dry environment—less than 0.5 percent relative humidity—is essential. The batteries can be fabricated on the semi-automated prototyping equipment line, which greatly improves quality and the ability to replicate the product, compared to batteries made by hand in a laboratory. They then can be tested in one of two environmental chambers where their performance can be measured under a variety of conditions, including extreme heat and cold.
The center has been designed to be flexible so that it can adapt as battery technologies change, as well as to accommodate prototyping larger batteries, such as those that may be used in electric vehicles, Schauerman said.
Much of the equipment in the Battery Prototyping Center was manufactured by SoLith, an Italian company specializing in battery manufacturing testing equipment.
"SoLith is a proud sponsor in the RIT Lithium Ion Battery Prototype and Pilot production line," said Alessandro Fossemo, general manager of SoLith. "We are pleased that our vision of enhancing progress in battery research by putting advanced manufacturing tools in the hands of innovative researchers has found a home at RIT, a world leader in science, engineering and industrial innovation. "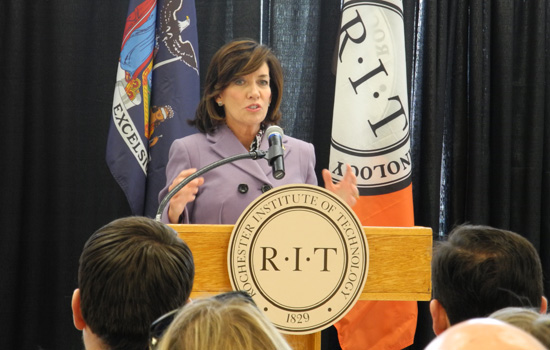 David Wivell
Topics