RIT unveils the 'Classroom as a Learning Tool'
Partnership with Steelcase Education helps create a space for more interactive learning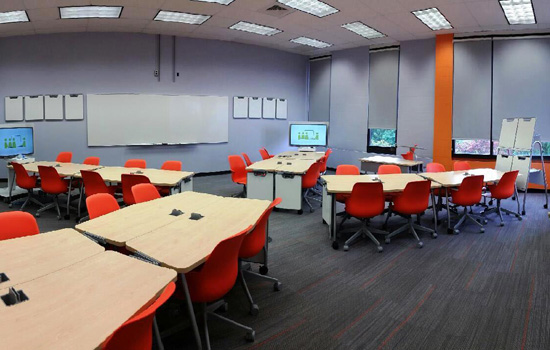 Moveable furniture that allows for quick reconfiguration and group work. High-tech interactive white boards on the walls that when connected to the professor's laptop create easy sharing of information. Large monitors around the room that present clear sightlines, making every seat the best seat in the classroom.
Those are just some of the features in a remodeled classroom in Rochester Institute of Technology's George Eastman Hall. The classroom, unveiled today, was made possible through a partnership between the university and Steelcase Education, a company focused on creating effective, inspiring learning spaces that encourage active learning.
"We are very pleased about this partnership with Steelcase Education, which will help RIT create the best learning environments possible for our students," said RIT President Bill Destler. "We expect that our faculty will learn a great deal from how the design of this classroom impacts learning that can be applied to other spaces across the campus."
The partnership is part of Steelcase's Learning Innovation Hub program, which centers on advancing research on the impact of active learning while providing institutions with opportunities to pilot active learning methods.
"We are excited about the initiation of this program and also delighted to be partnering with such a reputable university as RIT," said Craig Wilson, director of Market Development at Steelcase Education. "The changes converging on colleges today are unquestionably extraordinary. But with universities such as RIT open to exploring and embracing new concepts, we will continue to improve our educational outlook and performance through active learning."
As part of the project, Steelcase will be gathering information from the four faculty members who have been chosen to be the first to teach in the space, as well as their students. The research study will inform how much the physical space affects student behavior and learning outcomes, and will be helpful in future classroom modifications, said Ian Webber, assistant director of RIT's Innovative Learning Institute, which is managing the project.
"As we get feedback, we also will use it to develop new teaching modalities and provide that information to our faculty through online and other training," Webber said.
Webber said the four faculty members were selected from a pool of applicants to test the new space. They were chosen based on their responses to how they would use the room and its technology, how the space would enhance their ability to teach the course, as well as create more interactive learning opportunities for students.
"The greatest thing that this room provides is personal interactive space—meaning the students don't see me as a talking head but instead as someone who can sit with them, write on the white boards right beside them and truly have a one-on-one experience in the space, with me, the course learning assistants and their peers," said Sandra Connelly, assistant professor at RIT's College of Science, who is offering a recitation/review section for a general biology course in the new classroom. "My students who need that one-on-one connection are jumping at the opportunity to meet there. The space is relaxing, and just informal enough to make learning (and teaching) come more easily."
About Steelcase Education
As lifelong learners, Steelcase Education aims to make a difference in education. For students, educators and designers, we work to create the most effective, rewarding and inspiring learning spaces. As a dedicated group within Steelcase exclusively focused on education, we bring evidence-based design, technology and innovative solutions to education environments, wherever learning happens.
What Faculty are Saying About "Classroom as a Learning Tool"
"This class uses a 'flipped' classroom approach with pre-lecture, and sample problem videos all provided, allowing the classroom experience to be more active and student centered. The students work in small teams to solve homework problems in a cooperative learning experience. The Steelcase learning environment allows the students to easily work together in their small groups without having the issues of fixed chair/table locations. They also have the small and large whiteboard resources along with digital tools in the Smart board (ENO board), and two displays to develop digital work/solutions."
- Robert Garrick, associate professor of manufacturing and mechanical engineering technology in RIT's College of Applied Sciences and Technology, who is teaching Fluid Mechanics and Fluid Power in the space.
"This classroom makes you feel like you are going to work in the room, rather than just sit. It does this by not having a 'front' and by the ability to rearrange the tables and chairs to support student work in class. Activity is centered around students in class rather than the lecturer, and there are more lines of sight for visual presentations, and interpreters can be more actively involved."
- Nicholas DiFonzo, professor of psychology in the College of Liberal Arts, who is teaching Group Processes in the space and researching how enhanced sight lines in the room improve the learning experience for those RIT students who are deaf or hard of hearing.