RIT Welcomes Record Number of Employers to Fall Career Fair
More than 250 companies to be represented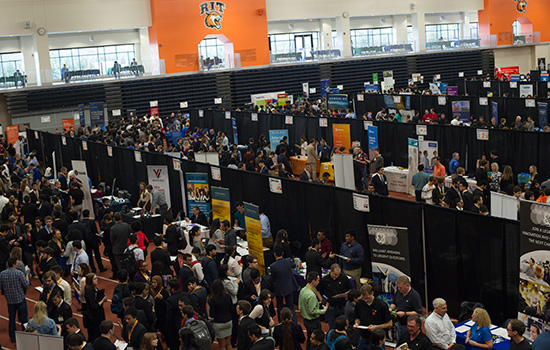 Thousands of students at Rochester Institute of Technology, many of whom are now preparing to enter the full-time job market, have an opportunity to interact with a wide assortment of potential employers, all conveniently located in one place.
RIT's Office of Cooperative Education and Career Services hosts the Fall 2012 Career Fair from 11 a.m. to 4 p.m. on Sept. 26 in the Gordon Field House and Activities Center. About 750 representatives from more than 250 companies and government agencies will be on hand for the event, making this year's fair the largest in RIT history.
"This is clearly a record career fair," says Manny Contomanolis, associate vice president and director of the Office of Co-op and Career Services. "It reflects the strong interest in talent that RIT produces."
Companies that plan to be in attendance this year include Amazon, Apple, Boeing, Canon, General Electric, Google, Intel, Microsoft, Wegmans and Xerox.
The fair is open to RIT students and alumni only. A valid RIT ID is required for admission. There is no registration fee or pre-registration required for students.
The number of companies isn't the only record that will be broken by this year's fair. About 2,900 students and more than 100 alumni seeking co-op and full-time positions are expected to attend the university-wide event. Candidates may be selected to return the following day on Interview Day, or later in the quarter for an interview with one or more of the participating organizations. Interview Day will also be held in the Gordon Field House, with 110 of the companies attending.
Topics