RIT wins Academic Library of the Year award
RIT Libraries to be recognized at the RRLC Annual Meeting on June 7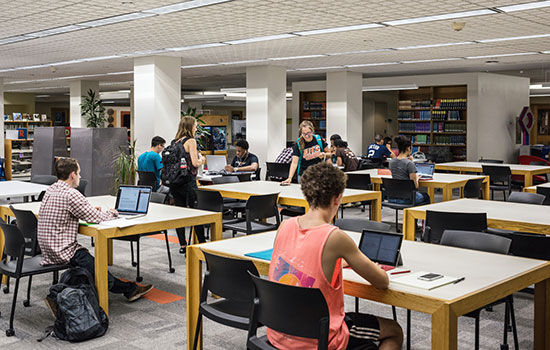 Rochester Institute of Technology earned the Rochester region's Academic Library of the Year award. RIT will receive the award at the Rochester Regional Library Council's (RRLC) Annual Meeting on June 7 at Casa Larga.
The RRLC invited library patrons from the greater Rochester area to submit nominations for its Library of the Year awards in April and determined the winners based on the quantity and enthusiasm of nominations. After reviewing more than 1,300 nominations for 73 libraries in the region, the RRLC selected RIT as winner in the academic category.
"We are so pleased to have been recognized by our patrons and the RRLC with this award," said Marcia Trauernicht, director of RIT Libraries. "We make every effort to provide first-class services, programming and learning spaces for RIT's faculty, students and staff. This award is a testament to the RIT Libraries staff members' dedication and their work in creating a forward-thinking academic resource that meets the needs of the 21st century."
Patrons submitted comments to the RRLC commending RIT Libraries' supportive staff, collaborative learning spaces and special collections such as Cary Graphic Arts Collection and RIT Archives Collections, and more. Visit the RRLC website to see the full list of award winners along with the comments submitted to the RRLC nominating RIT.
The RRLC is a multi-type library network serving libraries and library systems in the five-county Rochester region: Livingston, Monroe, Ontario, Wayne and Wyoming counties. RRLC is a member of the Empire State Library Network, which comprises the nine regional library councils in the state of New York.