RIT wins big in statewide Game Dev Challenge
Event—hosted by The Strong—surprised winning entrants with $50,000 in prize money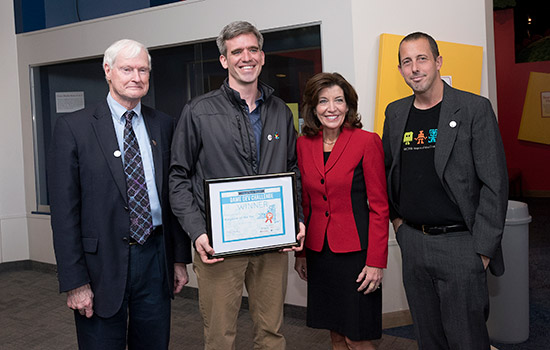 Rochester Institute of Technology's Center for Media, Arts, Games, Interaction and Creativity (MAGIC) announced the winners of the first-ever New York State Game Development Challenge at an event on May 8, at The Strong in Rochester, N.Y.
Lt. Gov. Kathy Hochul and RIT President Bill Destler were on hand to help announce the winners.
Winners are:
Student category
First place—RIT; Nathan Stevens (a fifth-year computer science major from Seneca Castle, N.Y.), Michael Ray (a third-year game design and development major from Bronx, N.Y.); Stephanie Stoner (a third-year 3D digital design major from Lakeland, N.Y.); and Lillian Jialin (a third-year game design and development major) for Kingdom of the Tao.
Second place—New York University; Weiyu "Ivy" Li, Liyang "Lea" Liu, Zijian "Zed" Zhou and Ping "Erenyx" Qiu, all second-year Master of Fine Arts students studying game design at New York University, from China, for Monsterologist.
Third place—Rensselaer Polytechnic Institute; Janice Ho (a junior graphic design/games, simulation arts and sciences dual major from Queens, N.Y.), Diana Nguyen (junior electronic art major from Brooklyn, N.Y.) and Neil Clarke (a senior computer science/games, simulation arts and sciences dual major from Geneva, Switzerland), for Phony.
Independent Developer category
First place—Evan Anthony and Jeremy Abel, both 2010 graduates of RIT's new media design and imaging program, and Mercy Lomelin, from New York City, for Genesis Noir.
Second place—Matthew Weise and Clara Fernandez-Vara from New York City, for The Myth Machine.
Third place—Waseque Qazi from Buffalo, N.Y., for Shotgun Farmers.
The challenge, which began March 10 and ended April 24, gathered game ideas from students enrolled in New York state colleges and universities and independent developers residing within the state, with an eventual goal of bringing some of these games to production.
Forty entries were received, including 18 from college students and 22 from indie game developers. First-place winners in both categories each won $12,000; second-place winners in both categories each won $8,000; and third-place winners in both categories each won $5,000. The money is to be used to aid in the development and production of their games. Winners will also be included in an on-site incubator at RIT, NYU or RPI for up to one year and will have access to a mentor network. Entrants were judged on their game idea pitch, game prototype, business plan, mentorship plan and development timeline.
The challenge is an initiative supported by Empire State Development and created by RIT, which was recently named one of three Digital Gaming Hubs in New York state. The objective for the Digital Gaming Hubs—which also include RPI and NYU—is to increase the economic impact to New York state by fostering innovation and creating collaborative activities that spur new games or companies as well as providing resources and mentoring to encourage students and entrepreneurs to enter the growing gaming industry. In addition, the gaming hubs will assist existing companies with gaming concepts, technologies and trends and host events focused on assisting the gaming community.
"I am beyond thrilled with the response that we received for this challenge," said Robert Mostyn, New York State Game Challenge administrator and Digital Games HUB Coordinator at RIT. "The quality and amount of submissions that we received reaffirms that fact that New York state has an enormous amount of talent and that we are producing incredible games."
Lt. Gov. Hochul congratulated the winners.
"The inaugural New York State Game Dev Challenge highlights RIT's emerging role as a digital media hub," said Hochul. "Through the MAGIC Spell Studios and in partnership with the Strong Museum, RIT is positioning New York to compete globally in a $100 billion industry, creating new jobs and opportunities. I congratulate today's winners and their participating schools, NYU and RPI, and look forward to seeing the next generation of games begin right here in New York state."
Empire State Development President, CEO and Commissioner Howard Zemsky said, "Some of the digital gaming industry's most talented and creative minds call New York state home. With efforts like our Digital Gaming Hubs, which are encouraging students and independent developers to design and produce new, innovative digital games, and the Game Dev Challenge, we are further bolstering the state's growing role this industry."
David Nathanielsz, general manager of Velan Studios Inc., in Troy, N.Y., was one of nine contest judges.
"It was a ton of fun to review all the submissions," said Nathanielsz. "The range of innovative ideas among the entries was impressive. Both the student and the independent studio work showed the breadth of talent and creativity that is out there working on the game ideas of the future. There were some bright stars among the submissions, and I can't wait to see how they evolve and mature over the coming years to release experiences that will push our industry forward."
RIT's MAGIC Center is a nonprofit university-wide research and development laboratory and a for-profit production studio that assists in efforts to bring digital media creations up to marketplace standards and commercialization. Faculty, staff and student researchers, artists and practitioners come together to create, contextualize and apply new knowledge in a multitude of related fields and disciplines as appropriate not only to STEM or the arts and humanities, but their intersection. RIT's MAGIC Spell Studios, which officially launched in November and will move into a new building in 2018, focuses on nurturing and growing new companies and publishing and distributing their projects.
In addition, RIT's game design and development program is consistently ranked among the top in the country, and its alumni are leaders across the technology industry, including in computer science, software engineering, computing and information science and imaging science.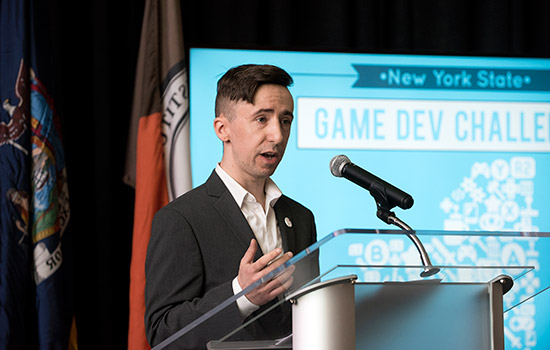 A. Sue Weisler
Video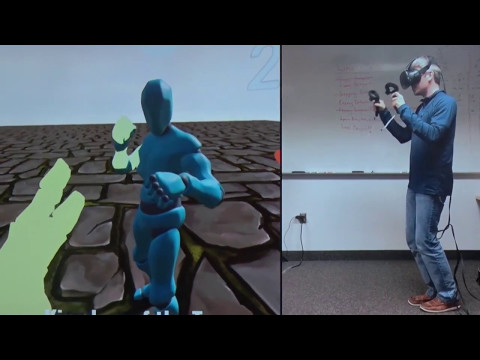 Topics