RIT Wins Regional Cyber Defense Competition Second Year in a Row
Students will travel to San Antonio to compete in national competition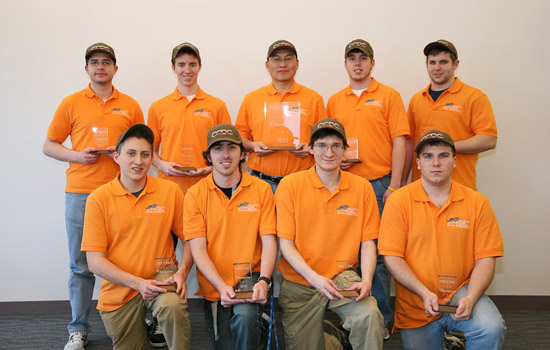 An RIT team took first place for the third time in five years in the annual Northeast Collegiate Cyber Defense Competition March 9-11 in Franklin, Mass.
The judges even jokingly remarked in their feedback that, "if anything, the group became cocky after hours of success staying up, which gave them too much time to play Kitty Wars and Minesweeper."
RIT bested 11 other universities to win this year's regional award and will travel to the national competition April 20–22 in San Antonio, Texas. The competition, which brings together more than 100 students and 50 industry leaders, requires students to assume administrative control of all information systems within the network of a mock company.
For the competition, a group of industry professionals, who include RIT networking, security and systems administration professors Bill Stackpole and Daryl Johnson, are assigned to break into computer networks to exploit information from a mock company. Teams of students are hired by the company to prevent that information theft from occurring.
"RIT's team successfully protected their enterprise network and systems, which were under constant attack," says Bo Yuan, director of the Center for the Advancement of Research and Education in Information Assurance at RIT and coach of the RIT team. "At the same time they fulfilled all business requirements from the company, such as making sure their website can still sell products."
Teams were scored on their ability to detect and respond to outside threats, maintain existing services, respond to business requests such as the addition or removal of services, and balance security needs with business needs.
RIT will compete for the national title in April with other regional winners, including University of Alaska Fairbanks, Air Force Academy, UNC Charlotte, Texas A&M University, Towson University and St. Cloud State University. Three more regional winners will be determined March 23–25.