RIT-Xerox Program Graduates Newest Leaders Through Online Program
Five-year-old program reaps benefits for company and focuses on print industry trends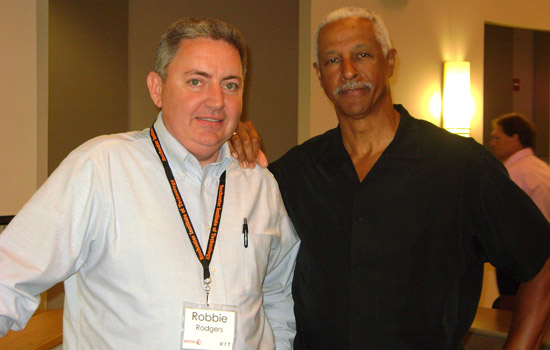 Michelle Cometa
There is a short distance between senior vice presidents and front line managers in the RIT-Xerox degree program—even when they are online.
Xerox Corp. has some of its future leaders learning alongside some of its current leaders in the Rochester Institute of Technology-Xerox degree program. Participants such as Senior Vice President Jeffrey Barker and Regional Technical Manager Robbie Rodgers talked with classmates about how the program is helping reap benefits for both the employees involved and the company.
Barker and Rodgers are part of the RIT-Xerox degree program, now in its fifth year. It is a customized online program that combines coursework from service management to printing industry trends. Based in the RIT Center for Multidisciplinary Studies, the program is more than a training program, with students earning degrees, not just certifications of completion. The credential provides professional growth opportunities for the students and provides the company with a workforce that can compete in today's competitive business landscape, says Barker.
"Our customers are requiring us to have more of an understanding of their business," says Barker, who has been with Xerox for 38 years and manages field operations teams across the U.S. "I think a more educated employee is a better employee in front of our customers."
In the RIT-Xerox program, students can earn associate and bachelor's degrees with concentrations in management and printing services. Students are required to take 18 courses over a two-year period, participate on-site at RIT for two weeklong seminars and deliver a capstone project based on a specific workplace issue.
"Xerox students bring work experiences and personal insights to every class. They also develop a strong bond in their cohort and support each other throughout the program," says Tom Hanney, a lecturer who teaches courses in the program and co-leads the capstone process. Barker and Rodgers were among a group of 31 Xerox employees at the recent on-site session in June. All were from different business units and at varied levels of management, including three senior vice presidents.
For Rodgers, the impact of the program has been seen by customers and the Xerox sales staff he supports: "I've already received the feedback, 'Something is different about you, something has changed. What has happened?' We communicate better, we analyze better, all the things that we need to do, we just do them better now. What will that do for Xerox? Time will tell, but I'm pretty sure it's going to improve our business development."
Both Barker and Rodgers acknowledge that the business climate has changed. Customers demand more than products and repair support from the international corporation that continues to evolve from manufacturing office products to providing broader professional business services. They expect the organization to provide strategic administrative support and products that align with the company's business.
"There's all kinds of business reasons why we'd want to do this," says Barker about the RIT-Xerox program. "We think that all of our managers should have degrees, that is our future state. So the future of where we are going really requires us to have a more highly educated service force."
Since its inception, 133 Xerox managers have participated in this program, with 67 having already graduated. "The support and commitment that the Xerox learning and development group puts behind this is remarkable," says Kitren VanStrander, RIT director of outreach education and training.
One of those supporters is Xerox's Manager of Learning and Development, Robin Paragone, who adds: "Since 2007, Xerox Services has enjoyed a partnership with RIT that has provided our managers with the opportunity to grow both in academic and business knowledge and skills. I have supported this program and the development of our managers in general and have enjoyed seeing them expand their awareness and thought process."
Barker and Rodgers expect to complete their bachelor's degrees in spring 2012. A new cohort of students will begin this fall with this current class expected back next spring to present capstone projects based on service issues and improvements plans they've researched and developed.
##