RIT/NTID honors inaugural group of Maguire Scholars
Academically based scholarship is valued at $5,000 per year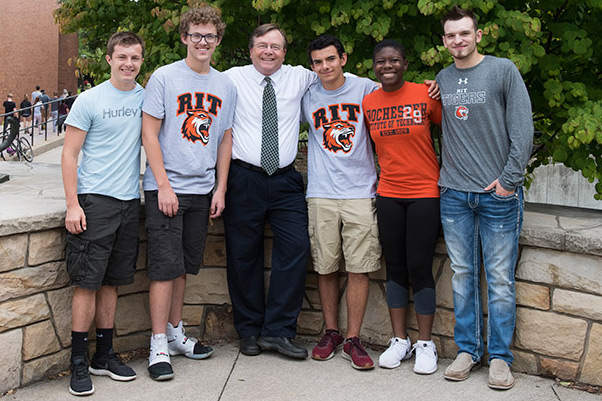 A. Sue Weisler
Rochester Institute of Technology's National Technical Institute for the Deaf has named its first group of Maguire Scholars. The students, who are deaf or hard of hearing, will each earn $5,000 per year, up to four years, and must maintain a minimum grade point average of 3.0 while actively participating in extracurricular activities or community service.
This year's RIT/NTID Maguire Scholars are Ty Brady, a transfer student in biology from East Central University in Ada, Okla.; Cameron Carey, a first-year computing security major from Carlisle, Pa.; Trinity McFadden, a first-year criminal justice major from Norwalk, Conn.; Ethan Misal, a first-year undeclared engineering technology major from Mechanicsburg, Pa.; and Nathan Murray, a first-year visual communication major from Harrisburg, Pa.
According to the website, the Maguire Scholars program "supports and enriches the leaders of tomorrow by providing an opportunity for an excellent education." The Maguire Foundation is committed to improving the quality of life for people by investing in education, arts and humanities, and relief of hunger and homelessness and provides last-dollar scholarship support to up to five students in each institution's incoming class. NTID was selected because of its history of excellence in providing educational programs that lead to successful careers.
"RIT/NTID is proud of our partnership with the Maguire Foundation," said Gerry Buckley, NTID president and RIT vice president and dean. "The students who have earned this prestigious scholarship are among the best and brightest at our university, and we look forward to watching them flourish in their academic pursuits and continue along their path to success."