RIT/NTID segment on WXXI program wins award
'Move to Include (NTID Dyer Arts Center)' featured in WXXI's 'Arts InFocus' series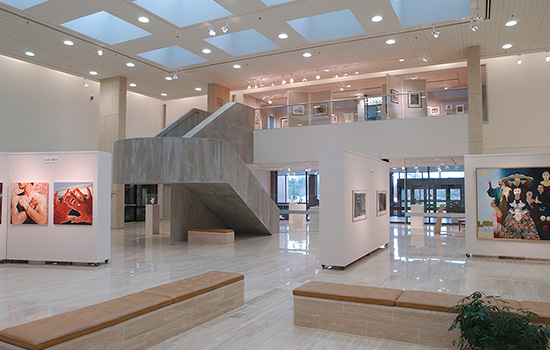 A segment featuring Rochester Institute of Technology's Joseph F. and Helen C. Dyer Arts Center at the National Technical Institute for the Deaf has won a bronze Telly Award, which recognizes distinction in local, regional and cable TV programs and commercials, as well as video and film productions.
"Move to Include (NTID Dyer Arts Center)," which originally aired Sept. 30, 2016, won in the TV Shows/Segments—Cultural category. In the segment, Arts InFocus visits the Dyer Arts Center and interviews Gallery Director Tabitha Jacques. The show is produced by WXXI in partnership with the Golisano Foundation, in support of an initiative designed to promote inclusion for people with intellectual and physical disabilities.
"NTID's Dyer Arts Center is proud to be the focus of WXXI's award-winning Arts InFocus feature," said Jacques. "WXXI has always been a tremendous partner and advocate and understands the value that inclusiveness and diversity brings to communities. All of us at RIT/NTID, and especially those of us at Dyer Arts Center, congratulate WXXI on this award and look forward to working with them to continue to tell our story in the future."
To watch the segment, go to http://bit.ly/2nORvsU.