RIT's archives play key role in research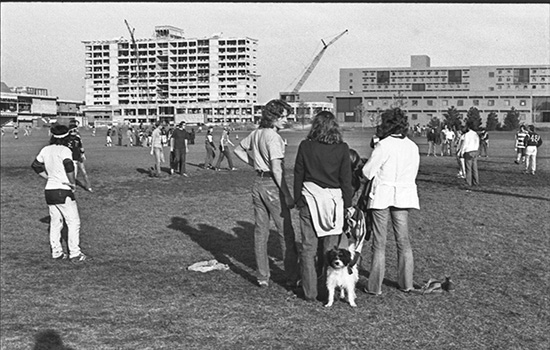 Arnold Newman
Active Archives
The Cary Graphic Arts Collection's Graphic Design Archives inside RIT's Wallace Library numbers 45 collections, including pioneering greats such as Lester Beall, Will Burtin, William Golden, and numerous others.
Today, RIT's archives have the relevant role of being both dynamic and didactic research and educational tools. Students, teachers, and researchers from around the world readily access these original resource materials, according to R. Roger Remington, RIT's Vignelli Distinguished Professor of Design.
The relationship between teaching, learning, research, and such vast design resources prominently positioned RIT for the acquisition of the archives of the late Massimo and Lella Vignelli, which became the university's capstone collection, located inside the Vignelli Center for Design Studies, in 2010.
"The design archives we have here at RIT make this university unique in the world," Remington said.
This fall, RIT's School of Design is adding a new sequence of courses to further leverage the archives. Design studies will complement the current areas of study in the visual communication design (VCD) MFA degree program, with curriculum that focuses on the critical relationships across design history, theory, criticism, and research.
To demonstrate how design research can be virtual and interactive—even when reaching across nearly five decades—John Koegel, a graduate student in the VCD program, is producing an augmented reality (AR) presentation for his thesis that recreates designer Burtin's pioneering "The Communication of Knowledge" exhibit. (The presentation is being produced and supported by the Vignelli Center.)
The iconic show, originally shown in 1971 at the gallery of the American Institute of Graphic Arts in New York City, displays Burtin's key lifetime achievements in design. The exhibit's 41 original panels, measuring 24-by-24 inches, are part of the holdings in the Burtin collection inside the Cary Collection.
Utilizing Microsoft's cutting-edge HoloLens Wearable Technology, Koegel, a Syracuse, N.Y., native, is creating a historical representation of Burtin's original exhibit to scale and dimension.
"My thesis focuses on creating an AR environment in which archival content can be virtually accessible through interaction for anyone, anywhere, anytime," said Koegel, who earned his BFA in graphic design at RIT in 2017. "Extensive research is a must to create and design from clearly defined and accurate historical references."
Topics