RIT's Global Opportunities grant offers $500 to liberal arts majors to study abroad
Students can spend between a week or an academic year learning in a foreign country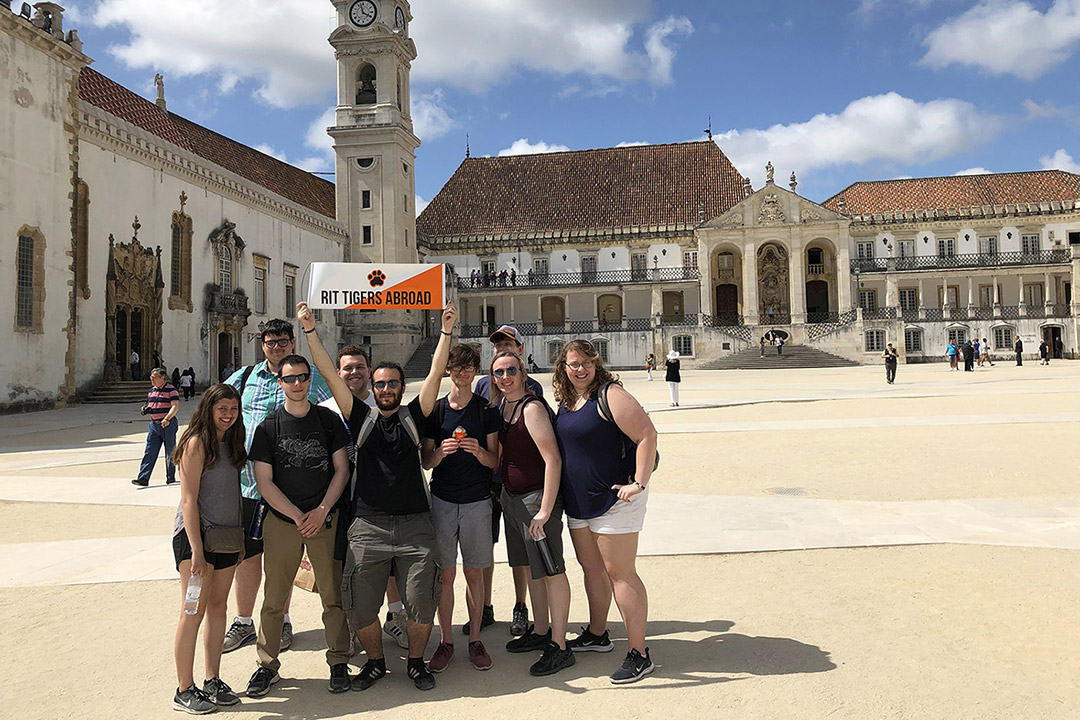 Liberal arts majors at Rochester Institute of Technology are now eligible for an automatic $500 international travel grant to be used for study involving their degree programs.
The Global Opportunities (GO) grant, a partnership between RIT's College of Liberal Arts and RIT Global, is the latest incentive program to encourage students to experience learning in other countries.
"Our goal is to get more students to study abroad," said Jenny Sullivan, director of education abroad and educational fellowship. "Studying abroad is one of the most impactful college experiences a student can have in terms of getting the greatest return on investment on their personal, educational and professional growth."
The GO grant aims to send 40 COLA majors abroad each year. There are several other scholarship and award opportunities available to RIT students that could also help pay for study abroad experiences.
"Global studies are integral to what we do across the College of Liberal Arts," said COLA Associate Dean Michael Laver. "All of our degree programs focus on international study, either directly or indirectly. We believe that every student who wants to go abroad should be able to do so."
The range of time a student stays in a foreign country could be a week to a full academic year. Numerous other funding options to help students travel are also available, depending on the program and length of their stay.
"We often have students going more than once," Sullivan said.
No application is necessary for the one-time grant, which could be used for RIT study abroad programs, faculty-led programs, study at an RIT global campus, or an exchange program.
To get the GO grant, students must be eligible for study abroad, be in good academic standing and have at least a 2.5 GPA.
Although all RIT colleges offer their students study abroad options, Laver said, "liberal arts, at its core, deal with language acquisition, different cultures, globalization and international organizations. To understand some of these phenomena, students have to experience other cultures and languages first-hand, from within. For instance, if you study the history of Latin America or Asia, students benefit tremendously from traveling to those areas."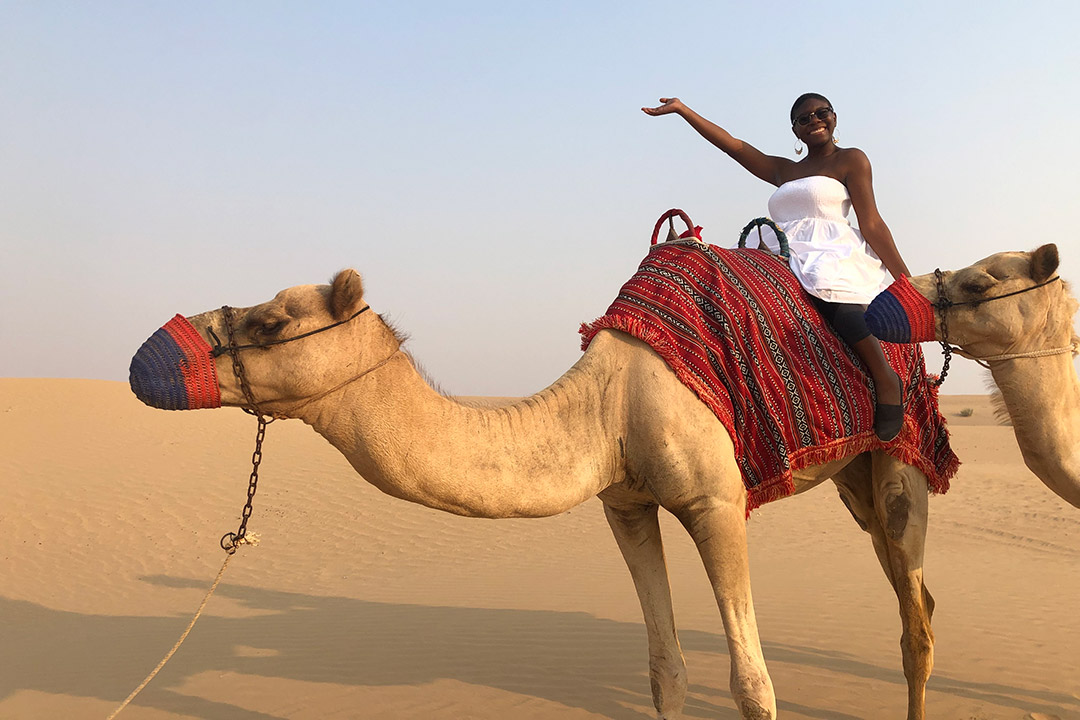 Trinity McFadden, a second-year criminal justice major from Norwalk, Conn., previously studied abroad in Russia, learning about history and deaf culture there, and last fall at RIT Dubai.
"I visited the tallest building in the world, I rode a camel, went on a desert safari and went camping in the desert," she said. "I watched the sunrise on a mountain, went to the beach and enjoyed beautiful weather for the whole semester. But the most significant part of my trip was the people I did all these activities with. I truly felt like I found my second family."
McFadden plans to use the GO grant for a faculty-led trip to Ireland this summer to compare that country's justice system with that in the U.S.
"If you're curious about something, you should go explore it yourself instead of having external voices to convolute your opinions," she said. "Every time I travel, I grow. I am more confident in myself. Studying abroad will change your life."
Quinn Foster, a third-year digital humanities and social sciences major from Ossining, N.Y., said previous trips to study abroad in Ireland and London were confidence boosters.
The new $500 grant will go toward Foster's upcoming three-week summer trip to Portugal to learn about digital tools that can be used in literature and writing.
"Any money helps," Foster said. "And I would recommend studying abroad. Just experiencing another culture really opens your world for you."
COLA's faculty-led trips remain a popular way to study abroad.
"The criminal justice program takes students to Ireland," Laver said. "Applied modern languages and cultures takes students to Japan. A course in political science will take students to Greece after having studied the subject for a semester. The Center for Engaged Storycraft takes students to Paris over the summer. So there are a lot of opportunities to study abroad with faculty."
RIT Kosovo also offers students a chance to study abroad by offering a Peace and Conflict Summer Program that provides the history, politics and economics of conflicts in an environment that serves as a living example of the subject.
COLA offers several degree programs that focus on international study, including international and global studies, which is an interdisciplinary degree program that includes applied modern languages and cultures and strongly recommends study or work abroad.
Students also have the option of studying abroad for a semester. The museum studies program recently designed a semester in Croatia. Students will take cultural heritage classes at RIT Croatia in Dubrovnik, and students will be able to participate in co-ops with local museums or tourism offices.
Nathan Dinneen, an associate professor of political science, plans to visit Greece in May to scout out sites for a future trip for students interested in a "Greece and the Political Imagination" class.
"I'll be looking for good places to go and think about how I want to tie these things into what I'm teaching, from antiquity to the present," Dinneen said. "We'll be looking at medieval Greece; the struggle from moving from paganism to Christianity; the artistic, literary and intellectual heritage of Greece; as well as natural landscapes, caves, etc. Just being in the area while reading various texts will be amazing."
Trent Hergenrader, an associate professor of English, has taken RIT creative writing and digital literature and comparative media students to Portugal in 2017 and 2019 and plans to take his third group there for three weeks this summer.
"We spend a few days in Lisbon learning about culture and history, then go on to Coimbra University doing a digital creative writing workshop, then spend 10 days in Porto doing urban exploration and a world building workshop," he said.
In addition to what his students learn during the exercises on his trips, they are learning about new cultures.
"Seeing students trying the language, being exposed to new food and engaging with Portuguese culture such as music in the context of learning, it's fun to watch students have new experiences and expand their horizons," Hergenrader said.
Study abroad opportunities have gotten Hergenrader to think about expanding his horizons, too.
"I've thought about offering trips to Spain, and maybe even a J.R.R. Tolkien trip to New Zealand," he said.