RIT's newest 'green' machine taking shape

Cutting-edge technology deeply rooted in new facility for sustainability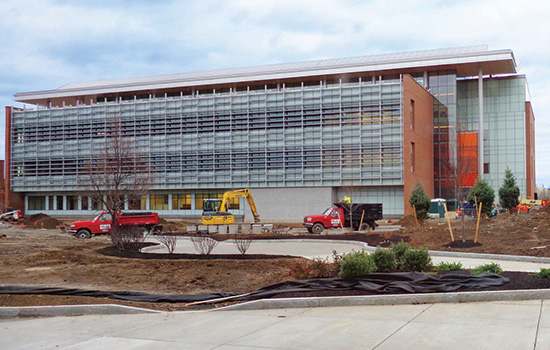 Laura Nelson
RIT is committed to sustainability through its research and academic programs as well as through campus operations and building design.

The new home of the Golisano Institute for Sustainability represents the ultimate manifestation of that commitment. Cutting-edge "green" technology has been incorporated into every inch of the 84,000-square-foot building, from the solar panels on the soaring canopy to the vertical wind turbines at the entrance.

"We felt that we needed to walk the talk," says Paul Stiebitz, associate academic director of the Golisano Institute for Sustainability. "We also saw an opportunity to include technologies for investigation into sustainable materials and systems. This building is truly a living laboratory."

Every visitor will recognize that this is more than an impressive structure, says Nabil Nasr, director of the Golisano Institute for Sustainability. "A new generation of engineers, architects, scientists and policy makers will work and study here. This facility represents the next step in RIT's development as a leading innovator in sustainable development." 

The building will be home to the Golisano Institute for Sustainability's master's degree and Ph.D. programs in sustainability and 
architecture. Research labs, student work areas, classrooms and conference rooms, a 65-seat auditorium and office suites all open onto a light-filled, four-story galleria space. Among the outstanding features are: 

Building "envelope": There's some of RIT's signature brick, but most of the building is sheathed in several varieties of glass. Opaque Spandrel panels have an insulation value comparable to masonry walls. Translucent panels with nanogel filling also have excellent insulating characteristics while admitting light. Transparent, high-efficiency heat-mirror glass made by Serious Materials (company chairman Kevin Surace is an RIT trustee and 1985 graduate) out­performs conventional triple-pane glass and is thinner, lighter and less expensive. Building windows in offices and conference rooms feature a coating that conducts electricity, so the glass can be heated to room temperature to eliminate drafts when the room is occupied. 

The extensive glazing reduces the amount of artificial light required. A sunshade system of stationary louvers on the south side of the building reduces heat buildup from direct sun exposure.

Fuel cell: A UTC Model 400 Purecell System is the primary energy source for the building. This unit produces 400 kilowatts of continuous electric power; heat generated as a by-product of electrical generation helps heat this and other buildings on campus. Any excess electricity goes into the campus grid. The fuel cell contributes significantly to the building's energy efficiency, which is expected to be more than 50 percent higher than a conventional building.

Microgrid: This system takes variable power inputs from all sources (including windmills and solar panels) and stores energy in a battery bank to provide 50 kilowatt-hours of power. This will power some of the building's lights and electrical outlets as well as charging stations for electric vehicles. Microgrid technology is a research area at GIS.

Geothermal system: Liquid will circulate from eight wells drilled into the ground through pipes in the galleria floor, helping to keep it warm in winter and cool in summer.

Green roof: An open-air terrace on the third floor features large areas of sedum and plantings that are part of Rochester's Seneca Park Zoo Butterfly Beltway project. The green roof also provides some insulation value, and, most important, absorbs runoff from rain and snow. Solar panels in this area can be easily accessed for research purposes.

Water conservation: The building is designed to be 66 percent more efficient than a typical building. For instance, rain­water is collected and filtered and used to flush the toilets. 

Green wall: An 8-foot-wide, 62-foot-tall area near the west entrance contains 2,976 green plants, contributing to air quality and building humidity as well as aesthetics.

Video wall: An array of three 60-inch flat-screen panels on the main floor of the galleria will display the performance of building systems in real time. The building is equipped with 1,200 sensors to monitor and control lights, heat and other systems. 

The construction and design team was led by LeChase Construction and SWBR Architects with additional support from FXFowle architects, Stantec civil engineering consultants and M/E Engineering. The facility was designed and constructed to meet Leadership in Energy and Environmental Design (LEED) standards of the U.S. Green Building Council. RIT has one other LEED Platinum (University Services Center) and one LEED Gold (Engineering Technology Hall) facility, but the building that will house GIS is the largest and most advanced project to date. 

The Golisano Institute for Sustainability is named for B. Thomas Golisano, founder of Paychex, who donated $10 million in 2007 to help launch the institute. Partners and affiliates include Xerox Corp., Caterpillar Inc., Eastman Kodak Co., Staples, and Rochester Midland Corp. Development of the Ph.D. program in sustainability was supported by a 2007 grant from the Henry Luce Foundation.
Jacqueline Ebner, Ph.D. in sustainability candidate from Rochester: 

"The new building offers a lot of opportunities. Besides the new labs, the whole building has cutting-edge materials and systems we can study. Plus, it makes a statement about RIT's commitment to sustainability. It's something we can be proud of."

Ana Maria Leal, M.S. in sustainability student from Bogota, Colombia: 

"The new GIS building is a cutting-edge facility for sustainability students, researchers and the RIT community to advance sustainability research and application. This model of sustainable architecture will foster interdisciplinary collaboration between diverse colleges, industry and other organizations, improving sustainability education and outcomes."

Matthew Rankin, M.S. 
in sustainability student from Rochester 
:
"The new building is going to be an educational tool for everyone on campus and in the community. As a living laboratory, it will immerse students in ways to 
apply the technology."