RIT's role in REMADE Institute builds on legacy
University has long heritage of assisting U.S. manufacturers to successfully compete globally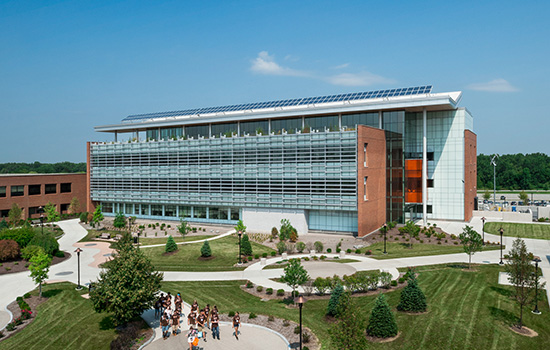 David Lamb
The selection of Rochester Institute of Technology's Golisano Institute for Sustainability (GIS) by the U.S. Energy Department to lead its new Reducing Embodied-Energy and Decreasing Emissions (REMADE) Institute on clean energy builds on the university's already impressive legacy helping U.S. companies to compete globally.
Remanufacturing
RIT has a long and well-established reputation as a global leader in sustainable manufacturing, remanufacturing, applied research, technology transfer and policy development.
Since 1992, the Center for Integrated Manufacturing Studies (CIMS) at RIT has combined analytical research practices with applied technology to help U.S. manufacturers remain competitive in the global marketplace. CIMS is a dynamic collaboration of in-house technical experts as well as academic, industry and government resources.
In addition to the Golisano Institute for Sustainability, established in 2007 with support from Rochester businessman B. Thomas Golisano, the National Institute of Standards and Technology (NIST), and New York state, RIT is home to several research centers that also will be leveraged in this latest federal clean energy manufacturing initiative.
GIS is an internationally recognized research center for remanufacturing technologies, design for remanufacturing, logistics and policy and business operations.
GIS leadership derives from a diverse set of industrial engagements and a unique understanding of the technical requirements of the global remanufacturing industry.
Development of an industry-led remanufacturing technology roadmap is planned, with aspirations to establish a broad industry, government and academic collaboration, focused on remanufacturing and the circular economy.
Active engagement by GIS with national and international trade organizations will continue through participation in forums, with a lead role in the Remanufacturing and Sustainability Conference, World Remanufacturing Summit and annual Global Conference on Sustainable Manufacturing.
Clean Energy
Renewable energy research and innovation is becoming increasingly important as the world seeks to counter climate change and decarbonize its energy system.
From advanced battery technologies and new biofuel technologies to clean energy generation and energy-efficient products and buildings, GIS is playing an important role in clean energy technological innovation and development worldwide.
Circular Economy
As a Pioneer University with Ellen MacArthur, RIT will continue to be involved with CE100 initiatives and the Disruptive Innovation Festival (DIF) event to help advance the circular economy.
GIS research and education efforts include the development of a graduate-level course dedicated to a circular economy for incorporation into GIS degree programs in addition to partnerships with industry, research institutions and other universities to conduct remanufacturing policy and technology research.
GIS will continue its efforts to disseminate information about the circular economy, including contributions to books and other publications on circular economy issues.