RIT's Satish Kandlikar Receives Rochester Engineer of the Year Award
Professor among elite engineers recognized by local Engineering Society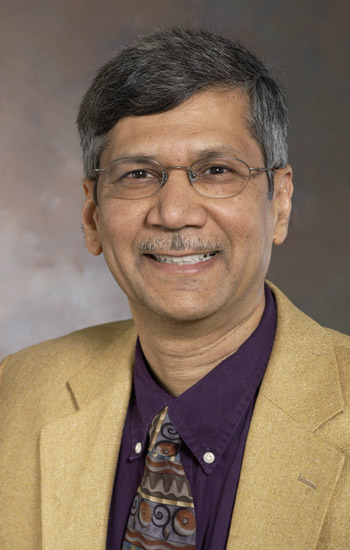 Satish Kandlikar, professor at the Kate Gleason College of Engineering at Rochester Institute of Technology was named this year's Leo H. East Engineer of the Year. The prestigious award is given annually by the Rochester Engineering Society to recognize an individual's contributions to the engineering profession.
"This was truly a team effort – of the students, staff and administration in the college," Kandlikar says. "These things do not happen to just a lone person. This was a collective success. I feel that this recognition is really about the countless students, who opened their minds in pursuit of knowledge."
Kandlikar has been a member of the RIT mechanical engineering department since 1980. He was recognized for his research activities, teaching excellence and contributions to the engineering discipline.
His research areas include fuel cells, flow boiling, critical heat flux, contact line heat transfer and advanced cooling techniques. He is a Fellow of the American Society of Mechanical Engineers, editor of the journal Heat Transfer Engineering and founder of the E-Cubed Fair, a science and engineering fair held annually at RIT for area middle school students.
In 1997, he was presented with RIT's Eisenhart Outstanding Teaching Award. Outside of the classroom, he manages the Thermal Analysis Lab and advises graduate and Ph.D. students.
The award was presented at the 107th Rochester Engineering Society Annual Gala at on March 14 at the Riverside Convention Center.