Sands Family Studios dedicated
Renovations supported by Richard Sands and family and state funds secured by Sen. Jim Alesi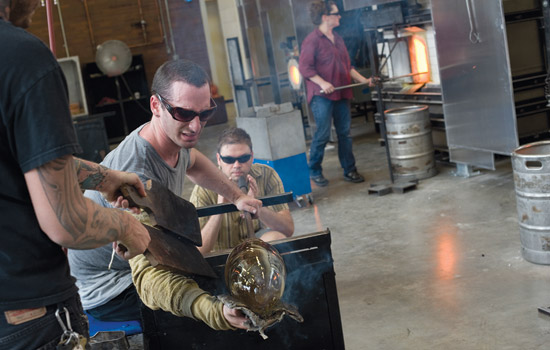 A. Sue Weisler
Thanks to Rochester Institute of Technology Trustee Richard Sands, chairman of the board of Constellation Brands Inc.; the Sands family; and New York State Sen. Jim Alesi, RIT's world-class School for American Crafts facility is the beneficiary of $2 million in investment.
RIT recognized the donors today during an on-campus ceremony to formally dedicate the Sands Family Studios. The funding supported renovation of the studio spaces inside James E. Booth Hall and an addition to the building's west side.
"The Sands Family Studios offer an integrated, up-to-date resource that strengthens RIT's standing as a world leader in crafts education," explains RIT President Bill Destler. "The generosity of the Sands family as well as the state funding secured by Senator Alesi generate added momentum with which to capitalize on RIT's assets related to the arts."
The School for American Crafts has served as the center of crafts education at RIT for more than 60 years. The school offers undergraduate and graduate programs in ceramics, glass, metals and wood. The 14,000-square foot facility includes expanded studio spaces, 16 kilns for the ceramics program, two furnaces for glass blowing and a workyard area students can use for iron pours, welding and raku firing.
"Over the years, I have developed a deep passion for working with wood and have honed my own skills through studying and learning this unique, fine artistry," says Richard Sands. "My family and I are very proud to support these studios that aim to guide students to discover the intricacies and joy of creating."
"Investing in higher education and the arts creates additional economic opportunities that can have significant impact on our local economy," says Alesi, chairman of the Senate Committee on Economic Development. "The School for American Crafts is the latest in a series of remarkable achievements at RIT and will continue the school's efforts to educate through innovation. Also, our community is extremely fortunate to have such generous and devoted benefactors as Richard Sands and his family, and I am pleased to partner with the Sands family and RIT in my ongoing commitment to furthering higher education, increasing economic development and enhancing our quality of life in the greater Rochester region."
In addition to the funding from the Sands family and Alesi, a $1 million donation from an anonymous donor and several other generous donations helped make the facility a reality.
"These gifts provide the necessary means for growth and preservation in the area of American Craft," says Lorraine Justice, dean of RIT's College of Imaging Arts and Sciences. "It strengthens RIT's programs and preserves the innovative and creative culture that has stimulated our country. We are very grateful for this opportunity."
The School for American Crafts has a long history of excellence. Founded in 1943 at Dartmouth College, the school's purpose was to develop and raise the standards of traditional crafts in the United States by recruiting European master craftsmen to serve as educators. Mrs. Vanderbilt Webb, the school's primary benefactor, led the effort to relocate the school to RIT in 1949.
RIT has a reputation for its fine arts offerings, including the crafts programs. According to U.S. News & World Report's 2012 edition of America's Best Graduate Schools, RIT ranked near the top in numerous fine arts categories including second for its glass art program.
For more information about RIT's School for American Crafts, go to http://cias.rit.edu/crafts.
##