October 9, 2017
by Marcia Morphy
Saunders College celebrates 10th anniversary
Tribute includes wall of honor, tours of REDCOM & Philip R. Tyler learning collaboratories, Business Analytics Lab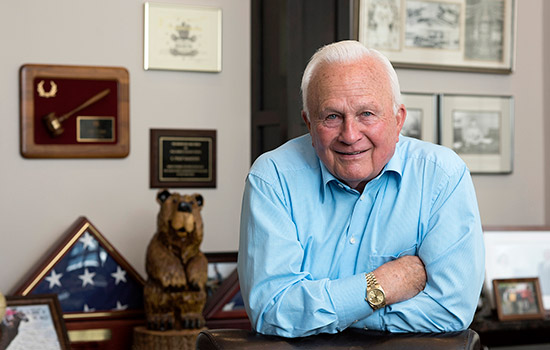 Local entrepreneur and noted philanthropist E. Philip Saunders, president and CEO of Saunders Management Co., will be honored for his decade-long contributions to his namesake college at Rochester Institute of Technology.
Saunders College of Business will host the 10th anniversary celebration with a 5:30 p.m. reception, followed by celebratory remarks at 6:30 p.m. on Wednesday, Oct. 11, at Lowenthal Hall.
The celebration will unveil a permanent wall display featuring many of Saunders' lifelong contributions to the business world. In 1958, Saunders' vision to create an empire of truck stops known today as the TravelCenters of America Inc. led to a lifetime of diversified interests in energy, auto and truck rental, recreation and tourism, packaged foods, property management, banking and business ventures.
"Giving back to the community is an important thing to do for a person who has been successful," said Saunders, a longtime resident of Livingston County. "In the last decade, Saunders College has increased enrollment, attracted quality faculty and achieved high rankings."
Saunders College Dean Jacqueline Mozrall said Saunders' ongoing support is evident in the new state-of-the-art facilities at Saunders College, but his mission doesn't stop there. "We are so proud to have Phil Saunders' name on our college," said Mozrall.
"As a successful businessman and as a person, he is a wonderful role model and inspires our students to be their best. He provides significant scholarships for deserving Saunders College business students from his hometown of Livingston County, speaks with student groups, and works with alumni and friends on behalf of Saunders College. We are so thankful for his generosity, and commitment, in making Saunders College a top-tier business school."
The Saunders dedication will also include tours of:
Business Analytics Lab, which houses Bloomberg Financial Market and analytics software and workstations for students to gain access to real-world business data in a collaborative workspace.
REDCOM Active Learning Collaboratory, an interactive learning space with self-contained student pods for collaboration, supported by digital and traditional displays and video conferencing capability for distributed teamwork. The room was made possible by the REDCOM family, Klaus and Brigitte Gueldenpfennig, and their daughter Dinah G. Weisberg.
The Philip R. Tyler Active Learning Collaboratory, the newest interactive learning space at Saunders College, was established in recognition of RIT alumnus Philip Tyler '65 (business), associate professor emeritus of marketing who taught at RIT for 38 years. During his tenure, Tyler was a recipient of RIT's Eisenhart Award for Outstanding Teaching and taught 10 years in the MBA program in the PU.S. Business School in Prague, Czech Republic.
For more information about the anniversary event, contact Heidi Boland, Saunders College events and promotion manager, at hboland@saunders.rit.edu.
Video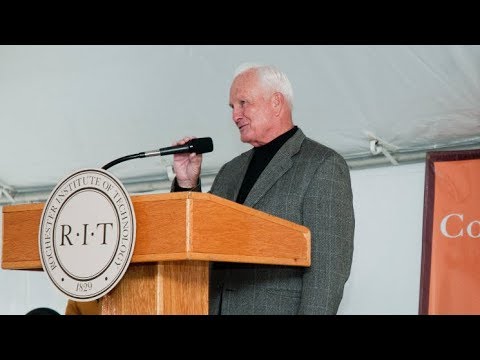 Topics