Saunders College MBA program named in ranking
Program is cited among the national, international business schools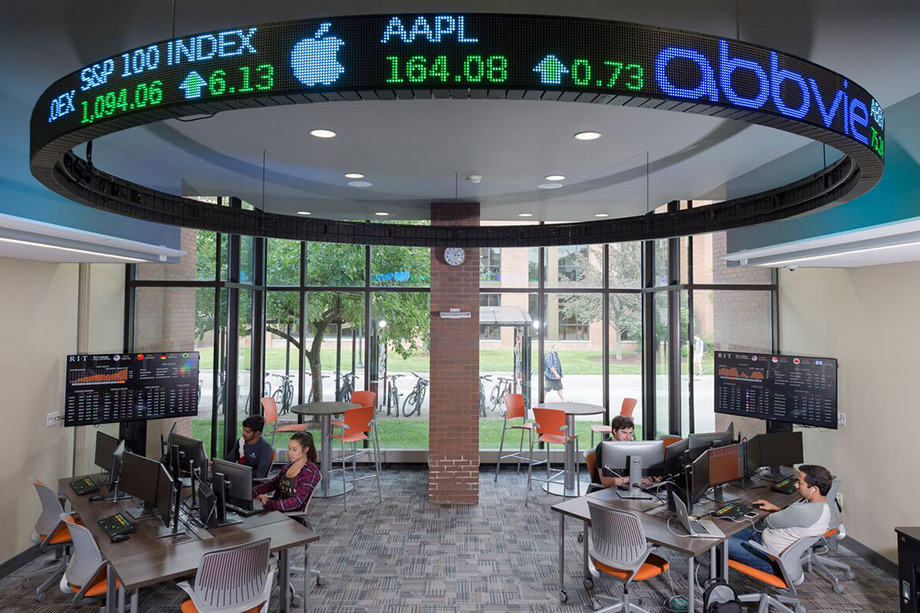 Elizabeth Lamark
The MBA program at Rochester Institute of Technology's Saunders College of Business has been ranked 54th among business colleges and universities around the world by the Times Higher Education/The Wall Street Journal.
Rankings were based on teaching excellence and the student experience, and performance indicators included teaching, research, citations, international outlook and industry income. One of the key parts of the overall data collection was the alumni survey, which was taken by more than 23,000 former students. The calculation of the rankings for 2019 has been audited by professional services firm PricewaterhouseCoopers.
According to Saunders College administrators, one of the hallmarks of the MBA program is the relevant curricula at the intersection of business and technology that prepares students to lead and manage in the 21st century. In addition to applied analytics and innovation courses, a wide range of technology-infused concentrations including finance, marketing, management information systems and entrepreneurship are available. Joint concentrations in supply chain management with RIT's Kate Gleason College of Engineering and health systems administration with the College of Health Sciences and Technology are also available to students, along with customized concentrations.
The Saunders' MBA program is recognized in many national and international rankings. US News & World Report 2019 Best Graduate School Rankings place Saunders No. 73 nationally among MBA programs. In additional recognitions, TFE (The Financial Engineer) Times and Poet & Quants have also ranked the Saunders MBA program in their top 100.  
"Given the high standards of Times Higher Education and The Wall Street Journal, it is  an honor for RIT's Saunders College of Business to be ranked," said Dean Jacqueline Mozrall. "We are proud of our students and faculty for continuing to elevate the level of excellence of a Saunders education, and we are pleased that our alumni are making a difference in business organizations around the globe."
Topics