Saunders grad gets top scores on CPA exam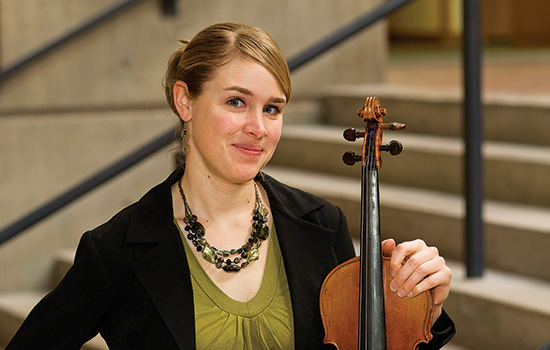 A. Sue Weisler
Adena Thomson is definitely a degree above average.
The RIT alumna, who attended Saunders College of Business as an accounting major, maintained a 4.0 GPA to earn her undergraduate degree in 2012 and achieved the same repeat performance of academic excellence for her MBA degree a year later.
And now Thomson has scored the trifecta. She earned one of the highest overall scores in the world and has been recognized by the American Institute of Certified Public Accountants as a top Uniform CPA Examination performer and recipient of the 2013 Elijah Watt Sells Award.
Thomson was one out of 55 of more than 94,000 candidates taking the test who attained a cumulative average score above 95.50 across all four sections of the CPA exam in the 2013 calendar year—and passed on the first attempt.
"When I found out in March, they held a party in celebration for me at work," said Thomson, who is employed as a staff accountant at The Bonadio Group's tax department and is in her second year of employment at the firm's Pittsford, N.Y., location. "The exams are daunting to say the least, so I'm grateful that all the time I spent studying paid off—and now I can look forward to the next phase of my career."
Thomson has worked hard to find support and stability. Born in Farmington, Pa., she was raised by parents who follow a rural way of life in a Christian religious community similar to Amish and Mennonite sects. She was uprooted several times before deciding to leave at age 17—leaving family and personal possessions behind. While juggling several jobs to continue her education, she found roots at RIT and in Rochester. Her sister, Kara (who also left the commune), is a licensed practical nurse at University of Rochester Medical Center and is studying to be a pharmacist.
With the steady combinations of work and study—"and not much sleep"—Thomson is ready for some rest and relaxation. "I'm looking forward to some down time after work and on weekends; I enjoy playing violin, golf, volleyball and softball," she said.
"Rochester has been good to me, and I certainly think my award speaks to the quality of the accounting program and the accounting professors at RIT—combined with working for a home grown firm like The Bonadio Group. The knowledge it takes to perform well on a comprehensive test like the CPA exam is a combination of on-the-job learning and academic learning."
William Dresnack, associate professor and area head of accounting and finance at Saunders College, said Thomson's latest accomplishment is well deserved.
"I don't think anyone who knows Dena was surprised to hear about her CPA exam score," said Dresnack. "Everyone who has worked with her says the same kind of things—'She's one of the best students I ever had; she's incredibly smart.'
"Dena is a superstar in intellect, but also in character and attitude. The icing on the cake is that she is a genuinely nice person, one of the 'good guys.' Even greater things are coming for her, beyond any question."
Topics