Saunders honored for impact on student success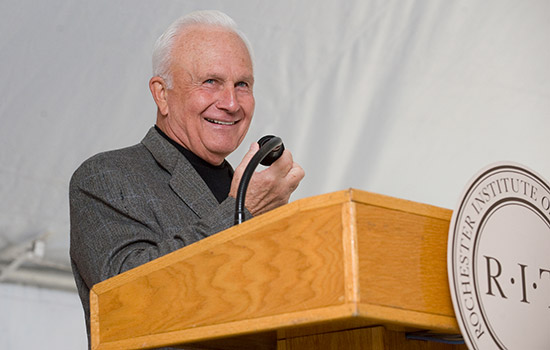 Contributions to RIT from E. Philip Saunders are well known. The serial entrepreneur and philanthropist has a business college in his name—where he notably established two annual four-year academic scholarships for a high school student in Livingston County, N.Y., who wants to major in business and "pursue an education they can only dream about."
Saunders has been named the recipient of RIT's 2017 Volunteer of the Year in recognition for his outstanding leadership skills and impact on student success. He will be awarded the tribute at the Presidents' Alumni Ball during Brick City Homecoming & Family Weekend on Oct. 13.
"My relationship to this university goes way back, when I first owned TravelCenters of America and I had RIT students working for me at night and on weekends," said Saunders. "I was impressed with their knowledge, skills and work ethic—and continue to believe that RIT continues to attract only the best and the brightest."
Saunders has remained actively engaged in Saunders College of Business and is an advocate for increasing its worldwide recognition. He believes integrating business education with RIT's internationally recognized technical and creative programs has been immeasurably successful.
A lifelong resident of Livingston County in New York, Saunders is known for transforming the truck stop industry, the genesis to diversified interests in energy, auto and truck rental, recreation and tourism, packaged foods, property management, banking and business ventures.
He is an RIT trustee emeritus and was awarded the university's prestigious Herbert W. Vanden Brul Entrepreneurial Award in 2005 and the Nathaniel Rochester Society award in 2011.
The community-minded patron is also the sponsor of the Young Entrepreneurs Academy (YEA!) Saunders Scholars Competition, held at RIT the past two years.
"I am very pleased to accept this award," said Saunders. "Philanthropy is part of a social investment and one of my passions is to see young people succeed."
Related stories:
Bower named Outstanding Alumnus of 2017
Meet SOIS Distinguished Alumna Barbara-Ann Mattle
Meet CIAS Distinguished Alumnus Gerald J. Hace
Meet SCB Distinguished Alumnus Gerald McCue
Meet NTID Distinguished Alumni Barbara Ray and Samuel Holcomb
Meet COLA Distinguished Alumnus Michael Ciminelli
Meet KGCOE Distinguished Alumnus Paul Kayser
Meet CHST Distinguished Alumna Penny Kris-Etherton
Meet GCCIS Distinguished Alumnus Ralph Derrickson
Topics