Scholarship makes grad school possible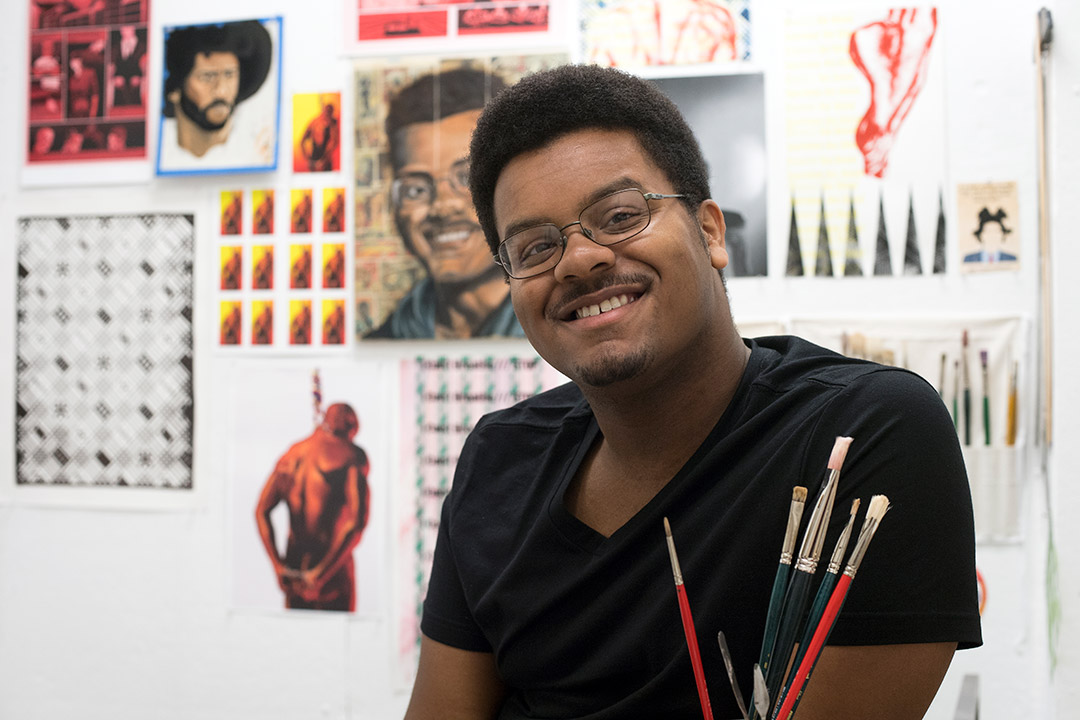 A. Sue Weisler
When Unique Fair-Smith '19 completed his degree in illustration last spring, he was proficient in a wide variety of painting techniques—watercolor, wash, acrylic, oil, digital, and others. But the Rochester native wanted to take time to further develop his portfolio and refine his skillset before pursuing a career in the editorial or comic book industries.
"When I found out about the Davitt scholarship, I realized this would be a good opportunity for me to do exactly that in a much more critical and academic setting," said Fair-Smith.
He is now pursuing his master's degree in fine arts studio and is one of the first two recipients of the Mark and Maureen Davitt Graduate Education Endowed Scholarship. This new endowed scholarship was established with a $500,000 gift to the university by Mark and Maureen Davitt to help graduates from the Rochester City School District pursue advanced degrees.
Fair-Smith said the MFA program is helping him to further develop his artistic voice and realize his vision of creating art focused on people of color, the LGBTQ community, and others that are underrepresented in the arts.
Meanwhile, Tymoni Correa-Buntley '17 (journalism), also a Davitt Scholar, is pursuing her master's degree in professional studies.
She said that she has "always felt like I could do more to support young people in communities who are impacted by gun violence and a failing criminal justice system. This scholarship gives me a chance to go further than just telling people's stories. I hope to learn more about what goes on behind the scenes and provide solutions."
Topics