Search for perfect snowflake ends under microscope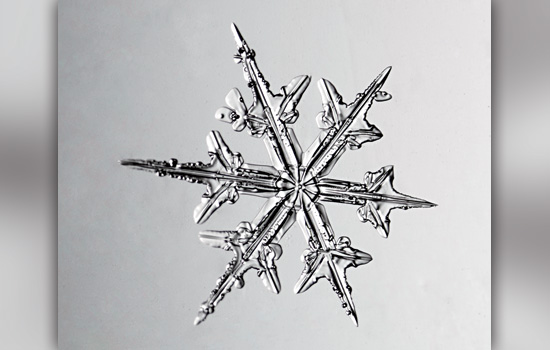 RIT Professor Michael Peres still vividly recalls driving home a decade ago one cold, snowy night after a conversation with one of his excited students.
Emily Marshall, a student in his biomedical photographic communications program, had rushed back to campus after attending an exhibit at the Buffalo Museum of Science featuring the work of Wilson "Snowflake" Bentley. The Vermont farmer, after years of trial and error, became the first person to photograph a single snow crystal in 1885.
"Emily wondered if we could somehow carry on Bentley's work and approached me about us taking similar pictures here at RIT," recalls Peres, associate chair of the School of Photographic Arts and Sciences and former chair of the biomedical photographic communications program. "I said we didn't have the right equipment. Here I was telling one of my excited students what could not be done and I felt terrible."
But after thinking more about it, Peres decided to give it a try.
In the 10 years since that drive home, Peres, fellow RIT professor Ted Kinsman and an eager band of photography students such as Marshall '04 have been seen scurrying around campus—or outside the garage of Peres' Brighton, N.Y., home, where he has created a "microclimate" ideal for snowflake catching.
They carry pieces of black velvet draped over trays, desperately looking to delicately snatch the perfect snowflake to photograph under a microscope within scant seconds.
The images of these dazzling snowflakes have not gone unnoticed. Last winter, the director of photography at The Weather Channel came across Peres' photos on Facebook and worked with the RIT professor to post them for enjoyment worldwide.
"I was really intrigued by the process he uses to make them and I thought our website visitors would be, too," says Robert Johnson '94 (photo illustration). "I am always searching the Web looking for photographic ways for our visitors—and what we call 'weather enthusiasts'—to engage in our content. These scientific and beautifully intricate photos were both stunning and unique."
Peres says enthusiasm is imperative for finding "scope worthy" snowflakes because the process can be maddening. "But it's so much fun at the same time."
While taking pictures of snowflakes is anything but an exact science—there are tons of variables such as temperature, wind conditions and condensation of the flake— he has developed some relatively basic approaches using common equipment and practical approaches.
Photographing snowflakes can usually be accomplished best at temperatures well below freezing. "I've had my best experiences between 16 and 20 degrees," he says. "That means you're going to be bone-chilling cold."
Peres says black velvet is ideal for enabling easy identification of the best flakes and it also provides easy lifting of snow crystals. Demonstrating the meticulous nature of the work, he often uses a sewing needle taped to the end of a pencil to elevate flakes for closer inspection.
Using the needle, he carefully lifts the ice crystal and transfers it to a glass slide. Snowflakes come in many sizes. Peres says using a simple microscope can achieve just the right magnification.
And while there are no easy ways to connect a compact digital camera to a microscope, the RIT professor says it's possible to make microphotographs using a cell phone or digital camera.
"Whatever you use, be sure to trigger the camera using a self-timer," Peres says with a big smile. "When you're cold, you'll absolutely introduce shake into the image."
Peres often uses a fiber-optic light to supplement the microscope's built-in illumination, creating images with fascinating internal reflections.
"Last year I took a photo of one I like to call 'the epic flake,'" he says. "Perfectly symmetrical in every way. My best ever."
Patience is also a key ingredient. The ideal flakes were slow coming in the early years, Peres says, but now he averages 15 great shots a winter.
For her part, Marshall is thrilled that the tradition she helped start a decade ago continues with zeal today.
"I love winter and snow and have always had an affinity for snowflakes," says Marshall, who turned her love for the season into a business by starting a boutique winter-hat company in Aspen, Colo. "Seeing the first snowflake photomicrographs at the Bentley exhibit—and then later under my own microscope—is an experience I will never forget."
Are two snowflakes alike?
According to Kenneth Libbrecht, a professor of physics at California Institute of Technology whose most recent research has focused on the structure of snowflakes, it is extremely unlikely that two complex snowflakes will look exactly alike.
"It's so extremely unlikely, in fact, that even if you looked at every snowflake ever made you would not find any exact duplicates," Libbrecht writes. "The number of possible ways of making a complex snowflake is staggeringly large."
Therefore, Libbrecht concludes, it's unlikely that any two complex snow crystals, out of all those made over the entire history of the planet, have ever looked completely alike.