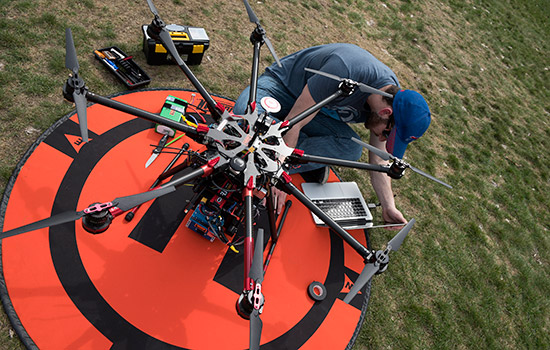 A. Sue Weisler
A team of RIT students spent the year giving wings to an idea that could help archaeologists find artifacts on the ground or buried a few meters below the surface.
Closer to the ground, aerial unmanned vehicles, or drones, equipped with multispectral sensors could provide richer, more detailed information than satellite imagery.
"The point of the project is to make an imaging system that clips onto a drone to fly over an archeological site," said Leah Bartnik, project manager and a graduating senior in RIT's Chester F. Carlson Center for Imaging Science. Data processed after the flight can tell an archeologist where to excavate, she said.
"The end product will be a 3D model, and it will have the picture information laid on top of it."
Bartnik, from West Seneca, N.Y., sought an imaging science capstone project that would give her experience working on an engineering team.
William Middleton, associate professor of archeology in RIT's College of Liberal Arts, served as the team's customer. Bartnik's imaging system is about the size of a tissue box and includes a traditional camera and near-infrared and thermal sensors used to assess vegetation.
The green pigment in plants known as chlorophyll absorbs and converts light into energy, and it reflects brightly in the green and infrared wavelengths. Weak measurements can indicate unhealthy patches of vegetation and, potentially, an object obstructing the roots.
"If there is a feature that emits heat at a different rate than the ground, and its position correlates with a feature that is stressing out the vegetation, there is probably something right at the surface or a few meters below," Bartnik said.
The engineers on the senior design team focused on the drone platform. Mechanical engineers Ben McFadden and Gavin Bailey designed and built the carbon-fiber gimbal, the pivotal support mounted to the drone that holds the imaging system. Electrical engineers Ryan Moore, Jeremy Sardella, Stephen Depot and Arthur Svec worked on the electrical harnessing and control system for the gimbal, including the automatic flight planning system.
McFadden noted, "There were weeks when the mechanical engineers were doing their own thing in the machine shop, and the electrical engineers were doing data collection and controls, but in the end, we were able to integrate pretty well."
Bartnik and Moore presented the project in February at Boeing's Engineering Week celebration in Philadelphia. During the project Bartnik became an FAA certified drone pilot and accepted a job at Harris Corp. where she will work on image processing and making software tools.
"I really like working in groups, and I want to be part of an engineering team when I graduate," Bartnik said.
Video extra
Learn more about this team and see them in action at bit.ly/ArcDrone.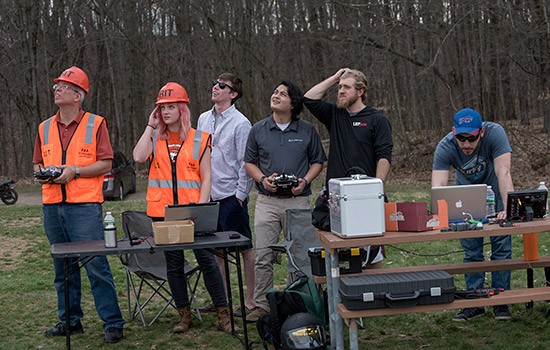 A. Sue Weisler