The 'Sentinel' turns 10 years old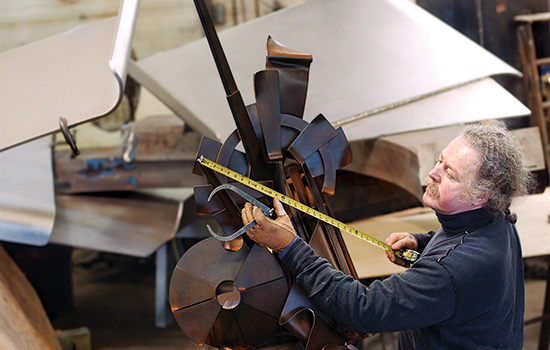 If you've ever traveled down Lomb Memorial Drive into the heart of RIT's campus, you've probably seen the Sentinel. At 73 feet tall, the sculpture stands above most of the surrounding buildings, except for its close neighbor, the tower of Eastman Hall.
Constructed in 2003 and designed by eminent sculptor Albert Paley, the Sentinel has become an iconic metal structure amid the "brick city" of RIT. The construction of the Sentinel coincided with the redesign of the administration circle to create a more aesthetically pleasing, pedestrian-friendly area.
"RIT has grown tremendously as a university, but as it grew, there was no sense of center," says Paley. "The Sentinel creates a symbolic core of the campus."
Made of 110 tons of steel, stainless steel and bronze, the Sentinel is one of the largest sculptures on any American university campus. A team of technicians and subcontractors from Paley Studios erected it over a 12-week period.
Paley says that the Sentinel is representative of the cultural aspects of RIT and helps to connect technology with the humanities and the arts. "Art functions in a symbolic context," he says. "The Sentinel addresses the dynamism of education."
The Sentinel is constructed with an open bottom, allowing pedestrians to walk through and interact with it. Today, it is an attraction for students and visitors and a popular backdrop for commencement photographs.
A new Paley sculpture will be added to RIT's campus in the winter. Named Cloaked Intention, it will sit in the newly formed courtyard between Sustainability Institute Hall and Louise M. Slaughter Hall. The 20-foot-tall sculpture is currently one of 13 sculptures that make up the exhibition Paley on Park Avenue in New York City.
About Albert Paley
Albert Paley is responsible for more than 60 site-specific sculptures across the U.S. and overseas. Notable examples of his work include the Portal Gates for the Renwick Gallery of the Smithsonian Institution in Washington, D.C., and the Portal Gates for the New York State Senate Chambers in Albany, N.Y.
His works can also be found in permanent collections at many major museums including the Metropolitan Museum of Art in New York and the Victoria and Albert Museum in London. A distinguished professor at RIT, Paley holds the Charlotte Frederick Mowris Endowed Chair in RIT's School for American Crafts.
Bruce Miller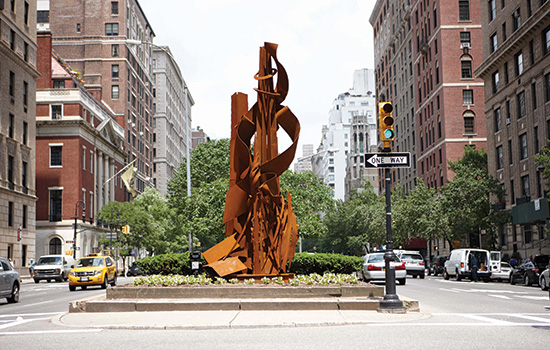 Myers Creative Imaging