Setting the Stage
Performing Arts at RIT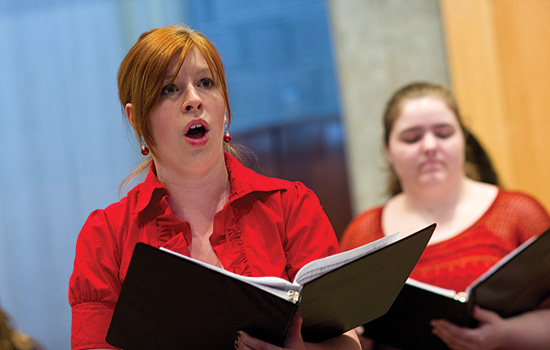 A. Sue Weisler
Those who see the performing arts as only a right-brained—or a more creatively intuitive—endeavor have never met Caitlin Donovan, 
a second-year chemical engineering major from Whitesboro, N.Y. For Donovan—and nearly 1,000 other RIT students who participate in performing arts on campus, the right-brain concept simply doesn't pertain to the performing arts. 

"I believe that music has to be somewhat 
innovative, creative and technical or I wouldn't be able to do it," says Donovan, a violinist in the RIT Orchestra and RIT Chamber Orchestra. 
"I am very detail oriented and so is music. 
We have all been working to delve deeper 
into the music to find tiny details that can 
make our music better. To do that requires 
a lot of different techniques. Also, sometimes it 
is necessary to come up with a new way to play something so that it sounds unique and fresh."

Donovan and her fellow "intellectually curious" students make time in their schedules to study music, dance and drama as credit-bearing components of their academic course work and understand, and enjoy, the high level of commitment and dedication required to do it exceedingly well. 

Michael Ruhling, professor of performing arts/music in the College of Liberal Arts and 
director of the RIT Orchestra, has seen a shift 
in the caliber of students who enroll at RIT. According to Ruhling, these high-quality students can get a top-notch education in their primary fields of study, but they also have the desire and understanding that they can develop and educate themselves in the performing arts. 

Carl Atkins, professor and director of performing arts, believes this speaks to a real change—
in his words, a quantum leap—in what RIT needs to offer its students regarding the performing arts, now and in the future. 

"We have an important role to play as an 
institution to present the performing arts in a way that shows the world the synergy between technology and the arts," Atkins says. "The 
students who study performing arts are serious about their craft, and we can showcase something amazingly unique at RIT—a high level of 
performance paired with a technological 
component. This is what our students desire. Want to talk about innovation and creativity? Just look to our performing arts students."

The result of this performing arts "call to 
action" has prompted the formation of a task force, comprised of RIT community members from a mix of colleges and departments, that is charged with researching the availability and rehearsal and performance space on campus; placing greater emphasis on marketing and advertising efforts to spread the word about the performing arts program to the campus and Rochester 
communities; developing innovative curricula that will continue to attract top students; and creating an inventory of equipment and materials required to support the growing needs of 
performing arts scholars. The task force, led by Atkins and Thomas Warfield, director of the 
RIT/NTID Dance Company, is looking forward to moving the sentiment from "talk" to "action."

Warfield, an accomplished choreographer, 
says his goals for this endeavor are crystal clear.

"There is such value in creativity, and to me, everything is creative. Fine arts teachers are masters at blending cognitive thinking with creative thinking to develop skills our students will use for the rest of their lives. We can teach them 
self-reliance, cooperation, self-worth, collective creativity. We help develop individual, 
personal talents that enhance their 
intellectual thoughts."

Students have the opportunity to study and perform in eight ensembles that offer academic credit: orchestra, chamber 
orchestra , concert band, two jazz bands, 
RIT Singers, World Music Ensemble, African Percussion Ensemble and the NTID dance program. In addition, students can join 
extracurricular student clubs including 
RIT Players, Pep Band, drumline, Gospel Ensemble, Tech Crew and the fan-favorite 
a cappella groups, Eight Beat Measure, 
Brick City Singers, Encore, Surround Sound, Vocal Accent and Proof of Purchase. 

There are also 40 music and theater 
course offerings in the College of Liberal Arts varying from Music Theory to Modern European Theater to an entire course on Beethoven. NTID Performing Arts offers courses in acting, dance, stage craft and technical theater, and has the only performing arts certificate available to students.

"The creation of this task force is one 
way that the RIT administration can make 
a statement for its support of the performing arts on campus," Ruhling says. "There have always been problems at RIT with adequate rehearsal and performance spaces, and a lack of resources and awareness at RIT and in the broader Rochester community regarding performing arts activities. The task force is a multidisciplinary group that is addressing these shortcomings from all parts of the campus. "

Already in existence are successful 
pairings with the College of Imaging Arts and Sciences' School of Film and Animation and the College of Applied Science and Technology's audio engineering program. On deck is the development of a music and technology major through the College of Liberal Arts—an expansion of the current program minor. Ruhling believes that more buy-in from the RIT community can only benefit the program. 

"RIT's curricular music ensembles are the only courses on campus where student work and development is put on public display every term," Ruhling adds.

Cederick Gibbs, a fourth-year multi­disciplinary studies major from Columbia, S.C., wishes for larger audiences for his musical performances. "Student musicians work really hard, and it definitely impacts the performance when there are only a handful of people in the audience," he says.

Nicole Hood, a second-year small business management and printing student from Concord, N.H., has been performing with the NTID Dance Company for six years.

"Performing arts courses not only encourage student awareness but give them an opportunity to open themselves up and analyze their identities," Hood says. "I know who I am, I know what I want to be, I have confidence in myself and that is because of the performing arts on campus."

"Our performing arts students do a lot with very little," Ruhling adds. "The time has come for RIT to offer its students studying the performing arts a level of support indicative of the top-rate institution of higher learning it is striving to become." 

Web extra: To see videos of performing arts students in action, go to the RIT University News YouTube channel at www.youtube.com/RITUniversityNews and search for "Performing Arts."

RIT on the Fringe

RIT will be a sponsor for the second annual Rochester Fringe Festival, to be held Sept. 19-28. Student, faculty and staff performing artists are encouraged to register at www.rit.edu/fringefest.

Did you know?

800-1,000 students participate in RIT music ensembles

Music curricular groups perform about 25 performances each year

There are 40 performing arts course offerings through the College of Liberal Arts

Information about RIT's Student Music Association can be found at: www.rit.edu/sg/ritsma

Information about RIT's music program can be found at music.rit.edu

One to three theatrical performances are produced during the academic year

Panara Theatre performances are performed in both voice and American Sign Language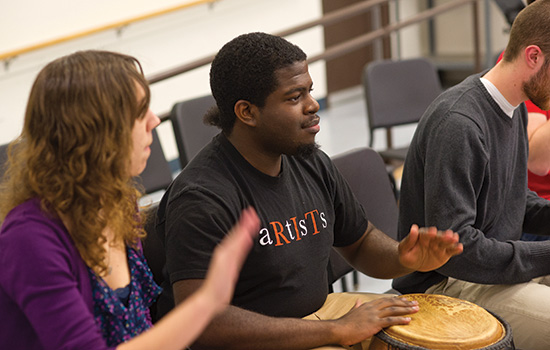 A. Sue Weisler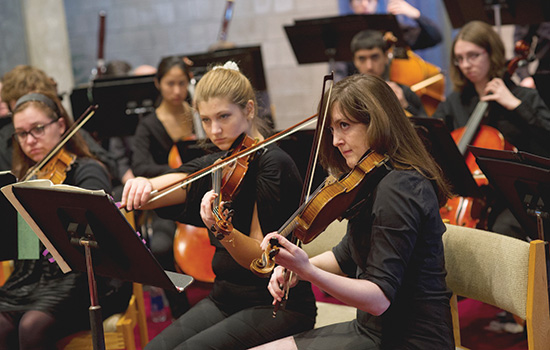 A. Sue Weisler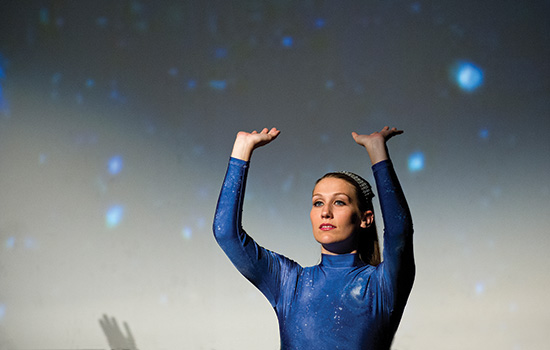 A. Sue Weisler