Shoemaker shows leadership on and off the soccer field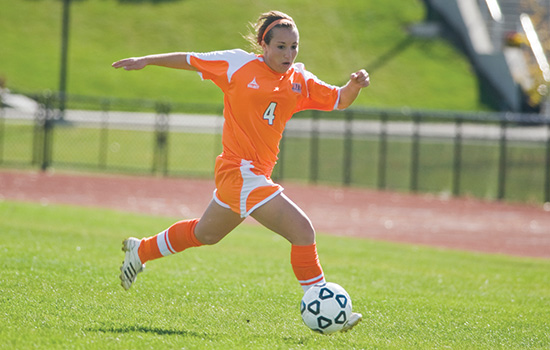 Mike Bradley
The goals of many college students are simple: Enjoy the "college experience," get involved, graduate and become successful. Fourth-year international business student Chelsea Shoemaker is well on her way 
to fulfilling her dreams. Not only is she entering her third season as a captain for the RIT women's soccer team, she will also represent RIT as one of only 24 members of the NCAA Division III Student-Athlete Advisory Committee, or SAAC, for a 
three-year term. 

In April, Shoemaker, who begins her second year as RIT's Student-Athlete Advisory Committee president, was named the Liberty League Conference SAAC president for the 2012–2013 season. Just weeks later, she found out she would be on the national SAAC committee, representing the Liberty League and New Jersey Athletic Conference among 449 Division III schools, working in harmony with the NCAA to benefit the student-athlete experience. She will travel to three national conferences each year while serving as a liaison between student-athletes and college administrations.

"We have had many fine student-
athletes and leaders throughout our 
illustrious athletic history at RIT, and Chelsea Shoemaker is definitely one of our finest ever," says Lou Spiotti, RIT's executive director of athletics. "Her energy, passion and dedication to RIT and RIT 
athletics are exceptional."

On campus, Shoemaker, from Greece, N.Y., is deeply involved in community 
service, spearheading RIT's volunteer 
work with the Special Olympics, National Girls and Women in Sports Day, and RIT's Giant Read, a program that encourages 
student-athletes to visit elementary 
schools throughout the Rochester City School District to read to youngsters.

Multi-tasking is crucial for Shoemaker, especially during soccer season. Her days begin at 7 a.m. and can end past midnight, often juggling class work, soccer practices, team meetings, games, student government and SAAC responsibilities, in addition to added responsibilities with the Liberty League and NCAA. 

"To be selected as not only the Liberty League SAAC president but also a national SAAC member is a tremendous honor," Shoemaker says. "I am excited to develop as a leader, give back and enhance the RIT community. Being a part of the RIT family means a lot to me and I care deeply about student-athletes getting the best experience possible." 

One of Shoemaker's main initiatives for the upcoming season is a Student-Athlete Summit, a leadership program that will bring students from each Liberty League institution together for a weekend of workshops. 

"The leadership and vision Chelsea brings to SAAC has elevated the visibility and productivity of the organization," says Liz Masterson, RIT women's soccer head coach and SAAC adviser. "She has an 
uncanny ability to inspire and motivate those around her. She always overbooks herself and somehow manages to complete everything with grace and success. Leaders like Chelsea are rare."
The RIT Student-Athlete Advisory Committee functions as a representative body of the student-athletes on campus. The committee provides leadership opportunities and community-service events for athletes and fosters camaraderie across athletic teams through different programs. SAAC works closely with Student Government to form a partnership with the idea to create school spirit using athletics as a binding force. For more information on RIT SAAC and how to get involved, go to www.ritathletics.com.