Simply Eats offers meal options without allergens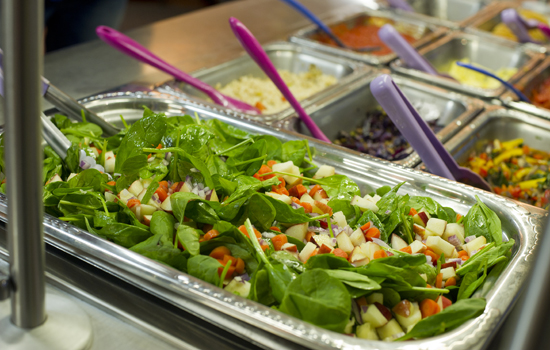 A. Sue Weisler
When Mitchell Goepel was a freshman, he remembers waiting 20 minutes for his gluten-free food at Gracie's to be prepared. Now with Simply Eats, a food station dedicated to eliminating the top eight food allergens, the fourth-year mechanical engineering student can choose from a variety of dishes any time during lunch or dinner.
"I can actually grab food and be able to eat with my friends without them having to wait for me," said Goepel, who has celiac disease and enjoys eating the gluten-free chicken patties and pasta.
Providing customers who may have a common allergy or intolerance with safe food at their convenience is the main goal of Simply Eats. The menu composed of more than 400 recipes eliminates allergens such as wheat, dairy, eggs, soy, peanuts, tree nuts, shellfish and finned fish.
Simply Eats is just one of the 10 food stations in Gracie's buffet style dining hall, which is the main dining location for the residence halls. For one price, customers can choose items from all the stations—and return for seconds.
"What we're seeing in terms of variety offered on campus has gone from cafeteria-style, where you only had a certain number of fixed items you could get, to now converting into three- to four-star restaurant dining experiences," said Kory Samuels, executive director of Dining Services.
In the fall of 2012, RIT started the process of creating a full allergen-friendly menu because Dining Services officials and Gracie's management staff noticed an increase in the number of incoming students with food allergies or intolerances. Samuels, who was at the time the general manager of Gracie's, met with more than 20 students and families before the semester even started. At that point, he and the Gracie's team knew they had to develop a food station where students with allergies could easily grab a meal without having to order it.
"The biggest thing is some people have anxiety about other people knowing they have an allergy or intolerance, so we don't want people to have to come to the operation and wait 20 minutes for their meal," Samuels said.
In spring 2014, Simply Eats opened and started serving a full menu of allergen-friendly foods. Aimee Mitchell, assistant manager at Gracie's, originally researched and tested 250 recipes for the menu. Since then, Mitchell has almost doubled the number of recipes. Her wide selection of recipes addresses important nutrient components such as proteins, vegetables, legumes and starches. Whether it's pineapple cucumber salad, spiced pepper and eggplant or lemon rosemary chicken, customers who have an allergy or not are bound to find something mouth watering.
Mitchell has sourced the ingredients she uses in her recipes and determines what type of plant they are processed in. The majority of the ingredients come from Gracie's regular food suppliers, with the exception of convenience items. Often convenience items are processed in shared facilities, which they avoid to prevent cross-contamination. For the continental breakfast implemented this fall, Mitchell uses packaged cereals and other breakfast items from Wegmans.
Due to the allergens Simply Eats eliminates, the menu naturally offers vegan and vegetarian options. The foods are not heavily processed and contain no animal by-products. Mitchell doesn't use granulated sugar because the crystals can be polished using bone char. As an alternative, she uses evaporated cane juice or agave syrup to flavor pasta sauces.
Simply Eats also has a variety of ethnic dishes. From quinoa to country French white beans, the items offer international customers a taste of home. Frederico Martins, first-year 3D digital design student from Brazil, enjoys getting the black bean dishes and herb brown rice because it reminds him of meals he eats with his family in Rio de Janiero.
"Beans, rice and proteins are the primary components of a Brazilian meal," Martins said. "The food at Simply Eats is very healthy and well cooked."
The staff takes extra precautions to prevent cross-contamination during meal preparation. As the largest commercial kitchen in Monroe County, Gracie's has enough space for an allergen-friendly area. Students and their parents can take a tour of the kitchen and see where the food is prepared.
"The food is prepared using separate knives and cutting boards," Mitchell said. "The prep area is cleaned and no regular food production is done in that area while staff is preparing Simply Eats items. We store the food in the cooler in separate containers on its own rack."
After the food is prepared, a full-time employee or student leader serves the food. All of the utensils are specially marked to distinguish between regular and Simply Eats materials.
"I've always said nobody will come to RIT based on the dining hall, but people will choose not to come based on a dining experience," said Scott Vadney, general manager of Gracie's. "When we tell parents that we have the Simply Eats bar and taken the steps to eliminate these eight top allergens, it's a weight off their shoulders. They're relieved to know one of the primary concerns about their children's education is going to be met."
Another factor that has reduced anxiety and helped students manage their diet is the Net Nutrition website. After customers choose the dining location and the meal period, they can select their food allergy and filter out menu items that may contain the allergen. Current menus are listed for each dining area on campus. The website is available as a mobile app and can be viewed on a tablet inside Gracie's.
In the future, Samuels would like to distribute packaged allergen-friendly items made at Gracie's to other dining services on campus. He also will consider adding allergen-free spaces when renovating other dining locations.
"Years ago an allergen-friendly platform was new and now it's a part of our culture," Samuels said. "When you are in dining services positions where you communicate with customers on a regular basis, it definitely becomes more personal. You have a large responsibility to make a student who may be away from home for the first time feel comfortable."
To see a photo gallery, go to https://people.rit.edu/aswcmp/Simply_Eats_@Gracies/.
About Gracie's
Gracie's is located in Grace Watson Hall, and is open to the public. Here are a few facts about RIT's largest dining hall:
Food is served from 7 a.m. to 7:30 p.m. Monday-Friday, 8 a.m. to 7 p.m. Saturday and 11 a.m. to 7 p.m. Sunday.
The cost for customers without a meal plan ranges from $7.95 to $11.95 per meal.
Simply Eats is one of 10 stations. Gracie's also has Mongolian grill and pizza, pasta, deli, fruit, salad, soup, cereal, waffle, bakery and ice cream bars.
Popular foods include chicken fingers (1,000 pounds per week), broccoli (200 pounds per week) and bananas (3,000 bananas per week).
This year, Gracie's served 20,000 locally grown apples, and staff say vegetables are becoming more popular.
A. Sue Weisler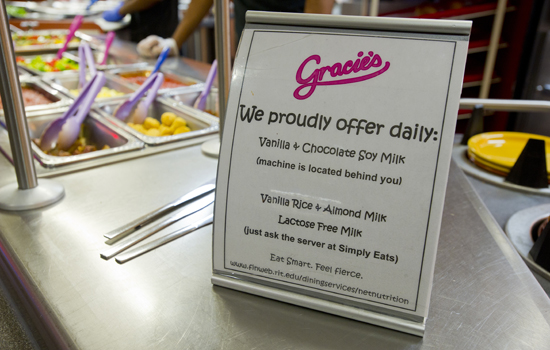 A. Sue Weisler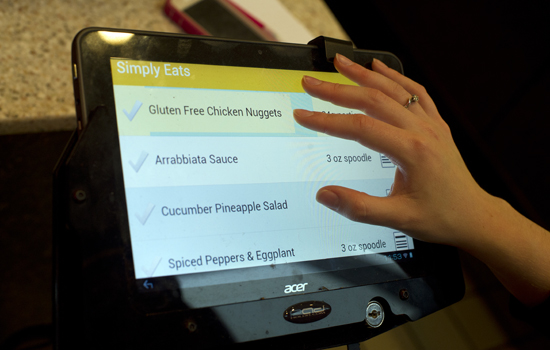 A. Sue Weisler