The sky's the limit
RIT becomes part of national plans to improve use of unmanned aircraft systems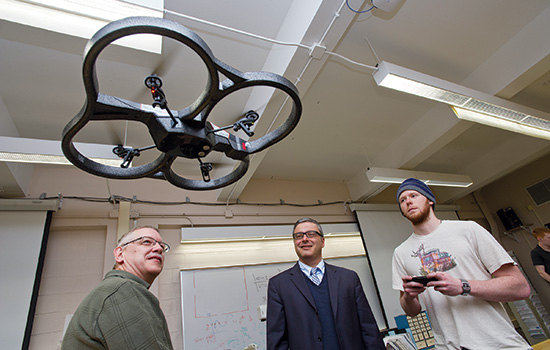 A. Sue Weisler
Ever since Amazon CEO Jeff Bezos suggested using drones to deliver packages 
to customers, discussions about the 
possible uses of unmanned aircraft 
have taken a new flight path. 

He might have easily been dismissed 
as a dreamer or an opportunist. But Bezos' announcement prompted a shift in thinking about unmanned aircraft systems from flights-of-fancy to real possibilities such as crop surveying, fighting forest fires, pipeline inspections, rescue operations, wildlife monitoring and disaster response. As the ideas mature and unmanned aircraft 
systems become more sophisticated, 
standard processes to assess usage, 
safety and technology are necessary.

Drones, also referred to as unmanned 
aircraft systems and more commonly 
associated with the military and law 
enforcement, are being developed for 
a wider variety of commercial uses—
some of which may be developed at RIT. 

The university is part of NUAIR, the Northeast Unmanned Aircraft System Airspace Integration Research Alliance, a group of more than 40 companies and universities in New York and Massachusetts selected in December 2013 as one of six Federal Aviation Administration test sites in the U.S. The alliance will conduct research and testing of safe integration of unmanned aircraft systems in the national airspace system. Nineteen universities are involved with RIT and Massachusetts Institute of Technology as regional academic leaders, said Agamemnon Crassidis, associate professor of mechanical engineering in RIT's Kate Gleason College of Engineering. 

"One of my key roles is to bring the 
universities together to see what kinds of research they are doing and how we can 
use that research," said Crassidis, who will also serve on NUAIR's board of directors. 

RIT is well positioned for this work with expertise in sensor and aeronautic system development from the engineering college, and in remote sensing and imaging from the Chester F. Carlson Center for Imaging Science. 

"This is a significant opportunity 
to expand use of remote sensing and 
imaging and make that imaging accessible to a broader constituency. In some disaster situations, especially with state or counties with tight budgets, access to low-cost 
imaging is big for them," said Donald McKeown, distinguished researcher in 
the Carlson Center. 

Unmanned aircraft have flown since 
the mid-1900s and are more than remote-
controlled model planes. Today, they consist of complex systems for collision avoidance, automated controls and navigation; they also integrate imaging systems to gather and process data. RIT researchers have 
already been developing aspects of these technologies and can contribute to 
improving unmanned aircraft systems. 

Regulations currently do not permit 
UAS operations above 400 feet without 
certification, and these allowances are 
given primarily to law enforcement or 
the military. The FAA has directed new 
test site teams like NUAIR to contribute recommendations about how corporate 
and commercial unmanned aircraft 
can be part of already crowded skies. 
The Northeast corridor where NUAIR 
will operate has some of the highest 
volumes of air traffic to control. 

The team has already received testing and development requests since the December announcement and expects to have a formal test facility and process up within six months. "It's not a competition between the sites, it's just a goal for us," said Crassidis. "What RIT brings to the table is its strong industry partners and our hands-on 
approach to teaching. Students will be 
involved in multidisciplinary projects 
related to this, plus undergraduate and graduate research. We will make use of 
our facilities, particularly the machine shop, wind tunnel and the Aero Design Club." 

Tim Southerton and Robert Jones, both fifth-year mechanical engineering students, are working on control systems for a Parrot AR Drone 2.0, a quadro-copter. They are upgrading the unmanned aircraft as part of a senior design project, integrating remote sensing equipment onto the frame and 
adding GPS navigation capabilities. 

These capabilities and others being developed make Bezos' idea of delivering packages seem not so far-fetched. According to the Association for Unmanned Vehicle Systems International, UAS may provide 100,000 new jobs in the U.S. and more than $82 billion in economic outcomes by 2025. 

Talk about soaring to new heights.