SNL's Leslie Jones to perform at RIT's SpringFest
Four-day fest features roller skating, free food, obstacle course and more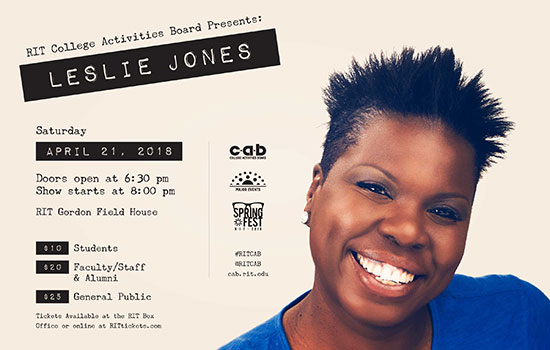 Comedian Leslie Jones, a cast member and writer on Saturday Night Live, is the featured entertainer for this year's SpringFest at Rochester Institute of Technology, April 19-22.
"SpringFest is one of the largest festivals we have on campus," said Dimple Joseph, director of the College Activities Board, which sponsors and runs the event. "This is a good way for us all to celebrate spring, bring the community together and have a blast!"
This year's theme is "Decades," and each decade, starting with the 1970s, matches events on that day.
Joseph said Jones was selected as this year's entertainer because of her broad appeal to students and the general community. Jones was also named one of Time magazine's 100 most influential people in 2017.
"Her sketches from SNL have been widely known," Joseph said.
Jones, who first appeared on SNL in 2014, also appeared in the 2016 remake of Ghostbusters. 
Jones is also known for her tweets, especially from Olympic venues in Brazil and South Korea, where she was called a "superfan."
Comedian Lenny Marcus will be her opening act.
Jones will perform at 8 p.m. Saturday, April 21, in the Gordon Field House. Tickets are $10 for students; $20 for RIT faculty, staff and alumni; and $25 for others, and are available at the RIT Box Office or online at RITtickets.com.
Joseph said festival memorabilia—T-shirts, socks, sunglasses and snapback hats—will be given away at some of the events.
Other events include:
Thursday, April 19:
Build-A-Burger: 11:30 a.m. in the Student Alumni Union lobby. Taste test different burger recipes submitted by RIT students and vote on your favorite. The winner will be featured by RIT Dining. $5.
Snow Cone Fundraiser: noon, in the SAU lobby. Flavors include grape, blueberry, raspberry, pina colada and more. Sponsored by RIT Circle K. $1.
DIY Flower Crowns: 5 p.m., SAU lobby. Channel your inner '70s by making your own flower crown. Supplies and instructions provided for crowns and bracelets.
Kick Off BBQ: 5:30 p.m. in the SAU lobby, featuring free food, games and music.
Theater: The Wonderful World of Oz, 7:30 p.m., Robert F. Panara Theatre. Performed in American Sign Language and spoken English. Sponsored by Performing Arts at RIT's National Technical Institute for the Deaf. Tickets are $5 for RIT students, children 12 and under and seniors 60 or older; $10 for faculty/staff; $12 for the public at RITtickets.com.
Movie, Star Wars: The Last Jedi: 8 p.m. on the Greek Lawn (Davis Room if raining).
Friday, April 20:
The New Wave Rave: 10 a.m. at the Tiger Statue, 1980's wave music. Sponsored by WITR.
Festivities: 11 a.m., SAU lobby. Free popcorn, cotton candy and crafts.
Puppyfest: 1 p.m. at Fountain Park. Several puppies and kittens from Joyful Rescues, Rescued Treasures and Kitten Korner animal shelters will be on campus. Spend time in the dog tent and/or the cat tent. Admission is $1 per tent, which will go to the shelters. Sponsored by RIT's Rescue Shelter Club and the Center for Leadership and Civic Engagement.
RocFest: 1:30 p.m., Global Village Plaza. Live local music, sponsored by Theta Chi.
Pizza Palooza: 2 p.m. at Global Village. Free pizza from campus dining halls. Vote for your favorite.
An Evening of Bob Ross: 6 p.m., SAU Cafeteria. Paint your very own Bob Ross-esque painting. Sign up required. Free.
Sign Idol: 7:30 p.m., Webb Auditorium, a sign language version of American Idol. Sponsored by Sigma Sigma Sigma.
Theater: The Wonderful World of Oz: 7:30 p.m., Robert F. Panara Theatre. See ticket information above.
Saturday, April 21:
Humans vs. Zombies Invitational: All day throughout campus. A moderated game of tag involving guests from other colleges. You need to attend a registration session prior to playing and will need socks or a Nerf blaster. Free as long as you have a bandana.
Vinylthon: 10 a.m. WITR will be broadcasting 24 hours of vinyl, SAU lobby.
Sk8ing: 11 a.m.-3:30 p.m. '90s-themes roller skating, with lights, free skate rental, popcorn and cotton candy. Gene Polisseni Center.
Women's tennis vs. St. Lawrence University: 11:30 a.m., Tennis Courts.
Build a Buddy: Noon-2 p.m., build a stuffed animal. Fireside Lounge. Free.
Phat Food Trucks: 3 p.m. in M Lot, food trucks from Eat Greek, The Brunch Box, Chef's Catering and more will be handing out free samples, while tickets last.
Guts: 3 p.m. Teams of four compete in an obstacle course. Team registration required. Greek Lawn. Free.
Sunday, April 22:
Color Run: To raise awareness about resources for the LGBTQIA community. Registration begins at 8:30 a.m. in Fireside Lounge. Run starts at 10 a.m. by the Gene Polisseni Center. Expect a "big color throw" after all the runners finish. Advance registration is $15 for students; $20 for non-students; $20 for everyone the day of the race. Children 10 and under run free with a paid registrant.
Theater: The Wonderful World of Oz, 2 p.m., Robert F. Panara Theatre. See ticket information above.
For more information, visit the SpringFest website.