Spectrum program supports autistic students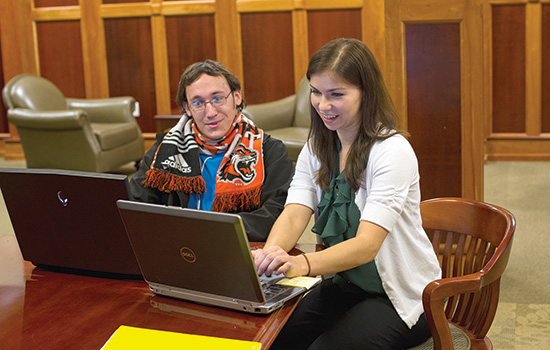 A. Sue Weisler
Forrest Shooster, a first-year game design and development honors student from Parkland, Fla., got a 4.0 his first quarter 
at RIT while also pursuing courses for a pre-med track. Additionally, he's writing a horror/adventure novel, is involved in seven clubs and organizations on campus and is a black belt in karate.

Shooster is also part of a growing 
group of students at RIT—and in higher education across the country—who are 
within the autism spectrum.

Autism, a complex developmental 
disability that affects a person's ability to communicate and interact with others, is known as a "spectrum disorder" because 
it impacts individuals in varying degrees. 

"The basic idea is that individuals with autism often struggle with social interactions, while at the same time showing strong academic potential," says Nicole Boulais, assistant vice president of Student Learning, Support and Assessment at RIT. "Some individuals may have trouble starting a conversation, while others will not know how to end one."

Autism is the fastest-growing serious 
developmental disability in the U.S. According to the Centers for Disease Control and Prevention, it affects one in every 88 births. Although there is no known single cause 
of autism, increased awareness and funding has helped individuals succeed, allowing more of these students to enroll in college than ever before. 

"Here at RIT, we have personally seen 
this wave of diagnosed students—going from 10 students in 2008 to more than 60 this year," says Laurie Ackles, director of RIT's Spectrum Support Program. "To help these students succeed in transitioning to college life, we established a formal support program which is now one of the largest of any university in the nation."

Students who choose to enroll in the 
program get to know the campus during a pre-orientation, participate in social events, work on interviewing skills in a specialized career seminar and can meet regularly with peer coaches from RIT's school psychology graduate program. Peer coaches help facilitate communication among professors, academic advisers and other support systems, while developing social and academic goals for the students.

"One of my students had difficulty 
managing his stress level," says Amy Dasaro, a 2012 graduate of RIT's school 
psychology master's program who now works part-time with the spectrum program. "Using individualized goal-oriented support, we were able to get organized, access the necessary resources and keep him on track." 

While providing services for students, the program also promotes research in the area, co-hosting an autism spectrum in higher education conference Nov. 7 with MIT and Rensselaer Polytechnic Institute. At RIT, the team works to increase awareness throughout the community by educating faculty, staff and resident and orientation advisers about autism. 

"You don't necessarily need to know that someone is diagnosed with autism," Boulais says. "When you see someone exhibiting these behaviors, like anxiety or repetitive behaviors, you can work to help them feel more comfortable." 

According to federal health officials, 
people with autism are a growing portion 
of our population due to better and broader diagnoses by professionals. RIT specifically has a larger percentage because of the 
computing, engineering and design-
based programs that often require less 
social interaction. 

"Any student who can get into RIT—and many of these students do so with perfect SAT scores—should have the appropriate support services to help them succeed," says Ackles. "These are unique students that view the world differently, but it's that different lens that could allow them to solve some of the world's greatest problems."
Topics