Spike in Participating Employers Highlights RIT Spring Career Fair
230+ companies to recruit students and alumni at March 28 event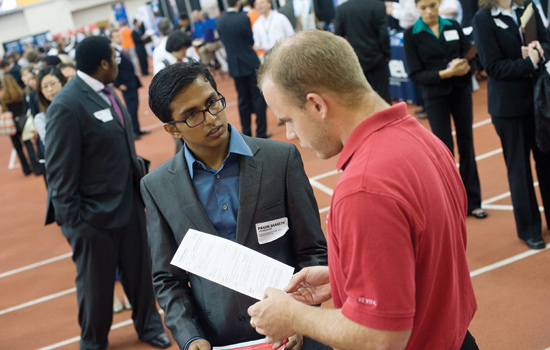 A. Sue Weisler
More than 230 employers are coming to Rochester Institute of Technology this week to sample the enterprising nature and diversity of the university's student talent. RIT's annual Spring Career Fair takes place 11 a.m. to 4 p.m. March 28 in the Gordon Field House and Activities Center to provide students of all majors with the opportunity to gain cooperative education experience or obtain full-time positions upon graduation.
According to Manny Contomanolis, associate vice president and director of cooperative education and career services, there is a 10 percent increase in employer attendance from the previous year—an indicator that the labor market for entry-level college graduates is picking up. The event is open exclusively to RIT students and alumni. More than 2,800 students and alumni are expected to attend and many will be called back the following day for interviews.
Among the list of potential employers, 50 percent of the companies attending are national firms and 25 percent are based in the Rochester area. The national companies include Microsoft, Apple, Toyota and Amazon. This year, Tumblr, a popular blog site, is adding its name to the list of potential employers. Rochester-based companies attending include Harris Corp., Manning & Napier Advisors Inc., Monroe County Sheriff's Department, Rochester Software Associates and Wegmans. Almost 20 percent of the employers attending the Spring Career Fair are first-time RIT career fair participants.
The Office of Cooperative Education and Career Services provides year-round support to students and alumni such as résumé review and mock interviewing. Students and alumni are encouraged to make an appointment with their cooperative education advisor or attend one of the workshops or programs offered. Both advisor names and programs can be found by logging into JobZone at the RIT's Career Services and Co-op website.
The Office of Cooperative Education and Career Services also organizes smaller sized career fairs throughout the year such as the hospitality career fair and company meet-and-greets.
Topics