Staff members recognized for exemplary service
Staff members recognized for exemplary service, commitment and involvement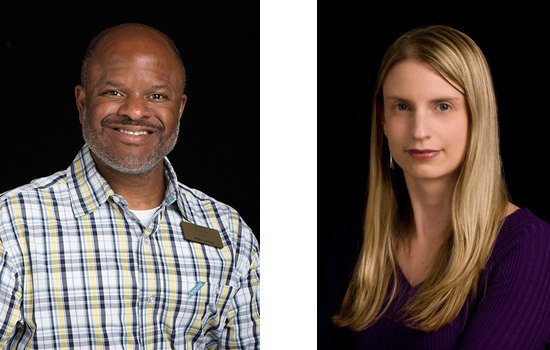 RIT honored employees for outstanding service and dedication to the university during its annual Presidential Awards for Outstanding Staff ceremony Oct. 8 in Ingle Auditorium. Awards were presented based on commitment to student success; integrity and ethics; respect, diversity and pluralism; and teamwork and collaboration.
Staff Excellence Award winners are:
Facilities Management Services Grounds Department: Bill Ackley, Richard Franklin, Eric Kimball, Marty Pigott, Neil Barton, Chris Furnare, Dan King, Jim Proctor, Bill Brinklow, Chris Hamilton, Christian Lane, Jim Sheffield, Darin Brooks, Rick Israelson and Jeremy Mosman. Nominators thanked the crew for cleaning up campus and clearing walkways and roadways from snowfall and enhancing the landscape for hundreds of campus events including Imagine RIT: Innovation and Creativity Festival and Commencement. One colleague stated, "I am always struck by the efficiency and effectiveness of the grounds crew. When I came to work on the Monday after the Imagine festival, I was amazed by how clean and serene the campus looked less than 48 hours after 32,000 people had been everywhere on campus."
Brenda Mastrangelo, academic adviser, College of Science. According to her nomination form, Mastrangelo "consistently performs above and beyond expectations, not for recognition, but simply because it is her personality to provide the best support for her students and her fellow faculty and staff. She goes out of her way to make sure everyone feels appreciated. Brenda will take time out of her day to write you a thank you note for things other people would take for granted." Another colleague stated: "Brenda has been a tireless advocate for our students and they depend on her to make sure their concerns and problems have been addressed. She consistently excels in her advising role, keeping student records organized, seeking professional development opportunities and her concern for the welfare of her advisees."
Renee Baker, executive director of the Office for Faculty Recruitment and Retention. According to her nomination form, Baker has "dedicated her RIT career to helping improve the compositional diversity of RIT faculty through her comprehensive recruitment efforts and through her oversight of the Future Faculty Career Exploration program. Her efforts have accounted for 20 percent of AALANA (African American, Latin American, Native American) faculty hires over the last 10 years." A colleague stated, "Renee has made a significant contribution to faculty success and, as a result, our students and the institute are in a better place." Baker is also a past recipient of the Isaac L. Jordan Faculty/Staff Pluralism Award.
Tina Sturgis, senior associate registrar. According to her nomination form, Sturgis "has taken on numerous new challenges with a great sense of humor, purpose and a focus on the big picture. Change management is something she handles very well. She is also very good at encouraging others through change." A colleague stated, "If you have ever had interaction with Tina you would be so thrilled to work with someone who is passionate, knowledgeable and puts the best interest of those around her first when doing her job. She strives for a win-win situation. Tina demonstrates an incredible sense of teamwork and collegiality. She is a straight shooter with a great sense of humor. She has earned the respect of her colleagues, students, administration and members of our community."
The Rising Star Award is presented to a staff member with three years or less of service and who presents progressive examples of high-quality service, has demonstrated a willingness to work collaboratively with colleagues and constituents, and shows imagination, creativity and innovation that embody the RIT spirit. This year's winner is David Bagley, director of RIT's Center for Residence Life. Bagley's nomination cited that "his professionalism, knowledge, student focus, enthusiasm and strong ability to lead were apparent within minutes of his arrival on campus. In the short time he has been at RIT, he has made an unbelievable, unparalleled difference within the Center for Residence Life, initiated positive change, instilled confidence in his team, and improved the quality of life for students living on campus."
The Dancy Duffus Award for Outstanding Citizenship recognizes staff members who demonstrate creativity and innovation, imagination and integrity that embodies the RIT spirit. This year's recipient is Karen Pelc, coordinator for wellness education. According to colleagues, "She reaches out to students repeatedly via all means necessary, involves others when needed, works with families, faculty, staff and outside agencies to ensure that every possible option is offered to our students in need. She is also there to provide those students with a successful transition back to RIT when they have left for a period of time due to the need for treatment. She often serves as their 'Rock of Gibraltar'; many students cite her as the reason they were successful and persisted at RIT." Others said, "Karen has the ability to be very supportive, candid and challenging, and her students know she truly cares. The feedback I receive from students after meeting with Karen is overwhelmingly positive; students are enlightened and feel empowered to make better life choices."
The Isaac L. Jordan Sr. Staff Pluralism Award recognizes a staff member who demonstrates passion and commitment to spreading the goals of diversity and pluralism across our campus and into the greater community. This year's recipient is Alex Jones, residence coordinator, Center for Residence Life. Jones has been described as "a valued confidant and respected colleague, a thoughtful, experienced and dedicated professional committed to enabling balanced dialogue on diversity and pluralism among various campus constituencies." Jones has actively served on various committees and in groups focused on teaching American Sign Language to students, and the recruitment and retention of diverse students, faculty and staff including No Voice Zone; the Deaf Professional Advisory Group; the NTID Diversity Group; the AALANA Faculty/Staff Association; and Partnerships in Pluralism. He serves as a co-adviser for International House and chair of the NTID Diversity Group.