Stephanie Mauro '13, thermal engineer, NASA's Marshall Space Flight Center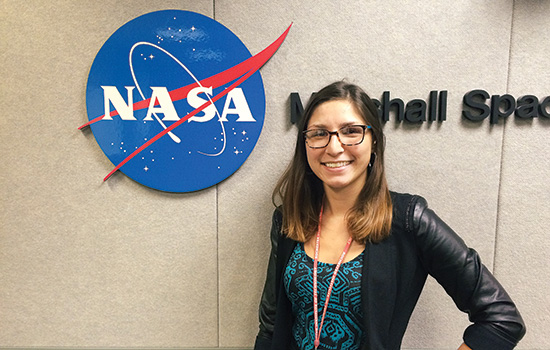 When Stephanie Mauro was in high school, she always thought it would be cool to work in the space industry.
"But I never really thought that I would just because it seems so far-fetched," said Mauro '13 (mechanical engineering). "Everyone says it's so hard to work at NASA. But it's really not. If you work hard, you can get there."
Mauro is proof of that. She started full time at NASA in March of 2013, even before she officially walked across the graduation stage. She was hired at Marshall Space Flight Center in Huntsville, Ala., after she completed a co-op there in the spring and summer of 2012.
She's a thermal engineer in the Thermal and Mechanical Analysis Branch of the Space Systems Department, the same department she worked in as a co-op student. When she was on co-op, Mauro worked on a payload for an unmanned aerial vehicle that measures wind speeds and rain rates in hurricanes.
She performed the thermal analysis of the payload, which is called Hurricane Imaging Radiometer (HiRad), before it flew. When she came back full time, she compared her analysis with data from the flight concerning the behavior of hurricanes.
She is currently working on Iodine Satellite, a 12-unit cubesat, or miniaturized satellite, scheduled for launch in 2017. "I like the work I get to do because it is challenging and a lot of problem solving and figuring things out," she said.