Student credits success to high school donor
Student Spotlight Hulbert Kates IV, fifth-year computer engineering technology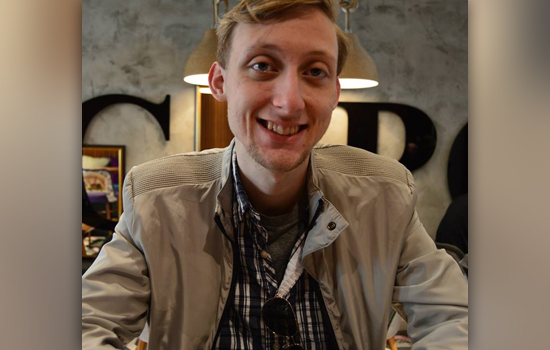 Hulbert Kates IV, a fifth-year computer engineering technology student, was one of 117 students named Outstanding Undergraduate Scholars on Thursday night. Kates, from Warsaw, N.Y., invited Mark Strome, founder of the Strome Family Foundation Scholarship, to thank him for recognizing his potential to succeed in college and granting him the scholarship. Strome's contributions have played a fundamental part in funding his education at RIT. Each year the scholarship is awarded to Warsaw seniors who plan on attending a four-year college and demonstrate motivation to be successful. Kates also works as a teaching assistant, serves as the scholarship chair for Sigma Alpha Mu and enjoys hiking.
Question: What brought you to RIT?
Answer: It wasn't until the summer before my senior year that I realized I wanted to go to college, which is late for most students. In order to catch up, I took the SATs and started visiting and applying to colleges at the beginning of my senior year. I ended up doing reasonably well on the SATs and got into RIT. I applied to RIT primarily because I knew I wanted to pursue a technical degree field and it wasn't too far from home.
Q: How did the Strome Family Foundation Scholarship help you pursue your education at RIT?
A: I learned about the scholarship my junior year because I attended the ceremony at Warsaw High School for the recipient who won. At the time, I didn't think I had the aspiration or the capability that would be required to receive the scholarship. I really just did what I had to do to get by in high school. However, during the summer before my senior year, I had a major epiphany. I flipped things around and took the hardest courses my school offered and put all my effort into getting good grades. After seeing the results halfway through the year, I began to gain momentum. I applied to several colleges and was looking into loans and scholarships when my guidance counselor suggested I apply for the Strome scholarship, so I gave it a shot. The first thing I had to do was meet the scholarship committee and that was unnerving for me. In the room with me were 10 other students who were among the top of the class. I ended up persevering and was one of two recipients that received the scholarship. The two things it did for me was it really helped ease my financial burden for these five years. It also was my crowning moment in high school. To go from zero to hero in my senior year was very important to me. I was determined to keep the momentum through college. If I wouldn't have won the award, I don't think I would have done as well.
Q: Why did you choose your major?
A: I knew my major was going to be something that had to do with computers because I had always been fascinated with video games from my childhood. At first I chose computer science, but I saw a lot of my floor mates were majoring in engineering technology and the work they were doing was interesting to me. At the end of the spring quarter, I changed my major to information security and forensics but at the end of the summer I had an epiphany and decided to try engineering technology. Before I officially switched my major with the department, I switched all of my classes at the last minute. The rest is history.
Q: What were some of the goals you wanted to achieve while at RIT?
A: I had three primary goals, which were to improve myself physically, mentally and emotionally. The mental aspect has easily been covered by me treating my academics very seriously. When I first came here, I set out to maintain a 3.5 GPA. I met those goals and my grades really took off after my spring quarter. As for physically, I made it a priority to exercise and stay fit and healthy. I have been exposed to a variety of different exercises and improved my wellness at RIT. Lastly, I improved myself emotionally through the relationship with my girlfriend and making many friends.
Q: What have you learned from being a teaching assistant?
A: I definitely think being a teaching assistant is an opportunity students should take advantage of. There is nothing like having the perspective of teaching someone else and watching them succeed. It also helped me keep fresh on the basics. Everything I have learned in my first and second year is stuff I have been exposed to every semester and the concepts have stuck with me. It has helped me in some of my interviews for jobs when they asked me a question my professor asked me two years ago. It's also just enjoyable to help out younger students because I sympathize with people who are struggling and looking for help. Between helping people realize their potential and some of my professors being really great, I might consider becoming a professor down the road.
Q: What did it mean to you to receive the Outstanding Undergraduate Scholar Award?
A: To me it's a representation and physical evidence of the effort I have put in over the last five years. I don't need a big ceremony. For someone to say good job and a thank you for all my hard work would have been sufficient. The Outstanding Undergraduate Award certainly does that and more. I really appreciate RIT for taking the time to recognize my effort.
Q: How have you maintained a relationship with Mark Strome?
A: After the end of my second year of college, I went to California to visit my girlfriend's family and Mark Strome lived fairly close by. I really wanted to take the opportunity to meet the guy that has helped me pay for a large portion of college so I reached out to him. We ended up having dinner together. He's a great guy and we had a good conversation. I think I'm the only student to meet him after receiving the scholarship. This year for winter break I went back to California and I reached out to Mark again and offered him an invitation to the Outstanding Undergraduate Scholar award ceremony. I wanted to be a testament to say his investment in college youth is not wasted. In the future, I could certainly see him being a potential mentor to me especially in terms of networking. Once college is over, I feel like I'm going to have a pretty good direction of where I'm going but when interesting events pop up I can certainly see him being someone I can look to for an opinion.
Q: After you graduate, what are your plans?
A: Currently my primary job offer is with Northrop Grumman in Baltimore where I completed my co-op. They were very good to me and I'm excited to go back. My ultimate goal is to be really good at a certain subject of engineering. I want to be an expert on a subject and have people come to me for help. I enjoy helping other people solve problems and it gives me my own personal satisfaction that I have the ability to help others.
Traci Turner compiles "Student Spotlight" for University News. Contact her at trt6538@rit.edu with suggestions.