Student displays photo work from Kosovo
Student SpotlightDaniel Vasta, third-year photojournalism major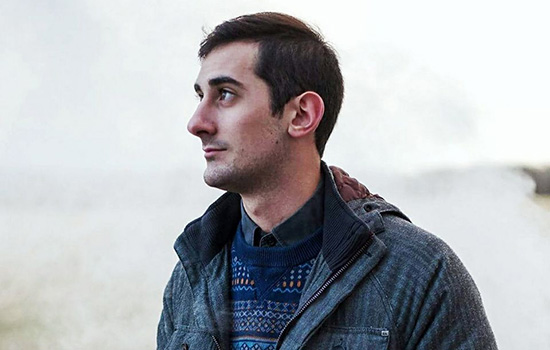 Daniel Vasta, a third-year photojournalism major, is one of a handful of RIT students who traveled to Kosovo last summer to pursue documentary projects as part of a study abroad program through RIT. Vasta, from Swedesboro, N.J., spent much of his time in Kosovo preparing and documenting the daily life of a family living in an abandoned prison just outside of the capital, Pristina. His work, along with the work of the other students who went, will be on display from 5 to 7 p.m. on Feb. 22 in the University Gallery.
The pop-up exhibit, titled "Generosity of Strangers," is free and open to the public. Refreshments will be provided. If you are interested in being a part of this year's trip to Kosovo, contact Meredith Davenport at mldpph@rit.edu, or stop by the exhibit to learn more.
Question: What brought you to RIT?
Answer: RIT is one of only a few schools in the country to offer a degree in photojournalism. RIT is also one of the best, so it wasn't very hard for me to make the decision to come here. In the end, RIT was actually the only school that I ended up applying to, so here I am.
Q: What prompted you to study abroad in Kosovo?
A: Something that really drew me towards photojournalism is its ability to bridge cultures and distances. I was exposed to images that brought me to a new place and introduced me to new people who were far away. Pictures have the power to pull people together regardless of distance or differences. When I got word of the Kosovo study abroad trip, I jumped on it. It gave me an opportunity to do the same thing with my own work.
Q: What led you to pursue the story that you did, and what challenges did you face?
A: Before I left for Kosovo, I had been doing a lot of research about the history, the culture and different issues that the country is facing. While scouring the internet, I came across an article that was written about families who lived in an abandoned prison. I found it to be an especially interesting story, and I thought I could add to it and that my work could help to comment on the bigger social issues in the region. After I arrived in Kosovo, I spent a lot of my time just trying to make contact with the people there. It took some time, but with the help of some great folks at RIT Kosovo, I was able to make contact and start the photographic work. A lot of the challenges that I faced were in relation to making the project feasible. I needed a translator, transportation and some lodging, but thanks to the overwhelming generosity of those around me, it all fell into place.
Q: How did your experience abroad shape the way that you approach your work, and what did you gain from the experience?
A: I think one thing that I took away from the experience is that everyone deserves respect and to be listened to. I met so many people with really complicated stories because of the war that took place there during the '90s. I was really humbled to meet people my age who had been through so much, and despite their hardships, were studying beside me. In regards to my work, I think it has helped me approach people as a photojournalist with a greater amount of respect and reverence because you never know what somebody has gone through in their life that might be shaping their current experiences. My time there made me really consider what my own motives are in doing this sort of work, jumping into someone's life with a camera in my hand, then jumping out. It taught me a lot about myself as a visual storyteller.
Q: Do you have any plans to return to Kosovo?
A: I don't have anything set in stone yet, but I am considering the possibility of returning to Kosovo to continue the work that I started. Meredith Davenport is leading a group of RIT students there again this summer. It's open to any RIT student interested in exploring the region, and I'd highly recommend it to photojournalism and journalism students in particular. I'd like to explore some other areas of the country.
Q: What are you most looking forward to about the exhibit?
A: I'm excited to share all of our work from Kosovo with the RIT community. Everybody who went had a really amazing time, and I believe that everyone produced some really nice work while there. It's going to be great to share our experiences. In addition to the exhibit, we have made a book that features all of our work, as well as an augmented reality component that includes links to text and audio, which we will be unveiling at the show. I am excited for people to see the quality of work that can come from a project like this.
Q: What are your professional goals following your graduation from RIT?
A: I feel like I have a ton of options, and I am really open to the many possibilities. I've said it before, but international work means a lot to me, so I am especially interested in the possibility of stationing myself in a foreign place and spending some time documenting what is happening there. I am also fond of the idea of just settling down at a newspaper somewhere in the States and working closely with that community. Regardless of where I end up, creating engaging visual storytelling is at the heart of what I want to do.
Lauren Peace "Student Spotlights" for University News. Contact her at lmp1579@g.rit.edu with suggestions.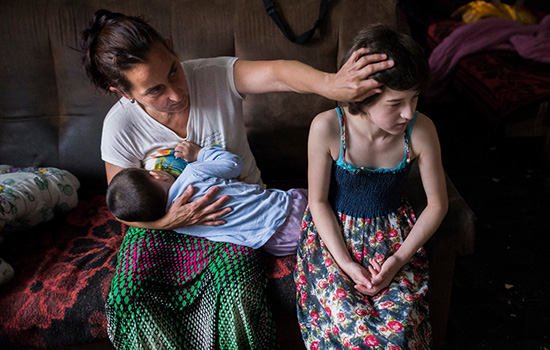 Daniel Vasta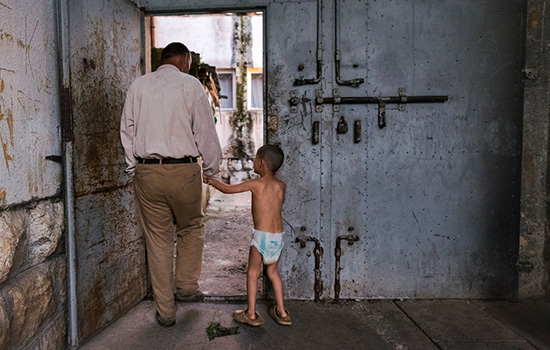 Daniel Vasta