Student entrepreneurs win business plan competitions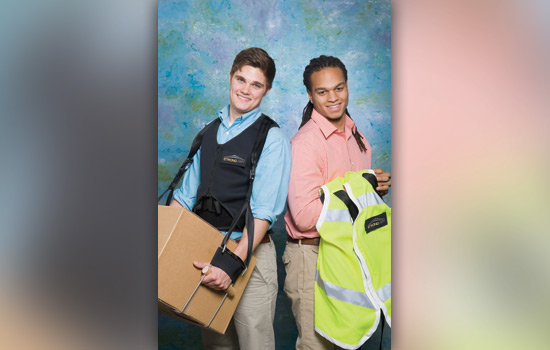 The co-founders of Strong Arm Technologies Inc. have scored additional recognition for their entrepreneurial muscle. RIT students Justin Hillery and Sean Petterson are the grand-prize winners of the 2012 New York State Business Plan Competition.
For their efforts, Hillery and Petterson have been awarded $50,000 in cash and $20,000 worth of in-kind services.
The RIT students developed a form-fitting garment that incorporates a system of load-bearing straps that allows workers to lift heavy objects with significantly less risk of injury. The system shifts the forces of lifting from the injury-prone hands, arms, neck, shoulders and lower back and distributes them evenly to stronger and more stable areas of the torso.
The New York State Business Plan Competition, which took place April 26 in Albany, featured student-led startups from across the state.
The Strong Arm Technologies team also earned top honors at the 2012 Rochester Regional Business Plan Contest, where they won a grand prize of $25,000.