Student finds fit in Greek community
Student Spotlight Dylan Boberg, fifth-year electrical engineering major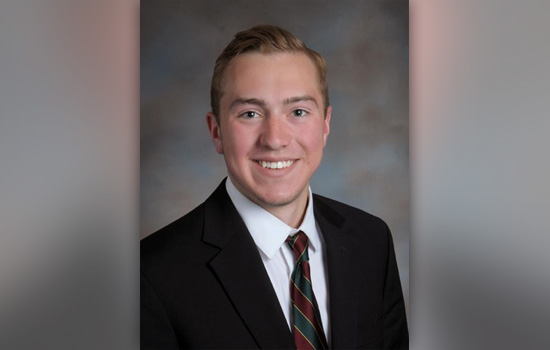 Dylan Boberg, a fifth-year student at RIT in the BS/MS electrical engineering program, is the recruitment chairman for Phi Kappa Psi, New York Theta chapter. Boberg, from Springville, N.Y., is going into his second year of Greek life at RIT. Prior to his time at RIT, Boberg was the captain of his high school varsity swimming and diving team for three years and vice president of the local National Honor Society.
The RIT Greek life community is comprised of 12 fraternities, five sororities, and 13 multicultural Greek organizations. The three-week rush period for fraternities at RIT ends Sept. 10.
Question: What brought you to RIT?
Answer: RIT was my dream school, but one of the main reasons that brought me here was the incredible co-op program that we have available to us. This school has so many connections to great companies around the world that continuously create new and innovative technology with the help of RIT alumni and current RIT students. More importantly, what has kept me at RIT for five years is the sense of community amongst the students. Students on this campus come from virtually every part of the world, speak different languages and express themselves in different ways, but everyone accepts those differences and works together to create the truly unique culture that RIT has.
Q: How did you get involved with Greek life at RIT?
A: My introduction to Greek life at RIT was not as trivial as others who came into college looking to join a Greek organization during their first semester. During my freshman year, I was very against joining a fraternity because of the harsh stigma that Greeks get in movies and on TV. It wasn't until my third year at RIT that some of my friends and past roommates who were a part of the Greek community changed the face of what I assumed Greek life to be. They told me about all of the great things that their chapters were doing for the RIT campus and the surrounding Rochester area, and how much they had grown as people because of their organization. It led me to become interested Greek life.
Q: What led to your decision to join Phi Kappa Psi?
A: One of my friends who changed my view on Greek life, Raul Ramos, is the one who also led me to join Phi Kappa Psi, but he is not the sole reason for me joining this fraternity. He invited me to stop by the campus house on Greek Circle for some rush events to meet some of the other brothers, and they are the one who solidified my decision to pledge Phi Kappa Psi. Everyone in this organization continuously strives for excellence, not only for themselves, but everyone around them in both academics and their professional and personal lives. The way that each member holds themselves to a higher standard and keeps pushing the limits of what they can accomplish individually and as an organization is something that I desperately wanted to be a part of and use that to grow into the person that I aimed to become.
Q: What does your involvement with Phi Kappa Psi entail? What are your responsibilities individually and as a group?
A: My current position within Phi Kappa Psi is the recruitment chairman which entails seeking out unaffiliated undergraduate men that I believe hold the same values that our organization was founded on. I hold and organize recruitment events throughout the three-week rush period for myself and the rest of the chapter to get to know each of the people and to see if our organization would be a good fit for them. This position is essential to maintain the life of Phi Kappa Psi, New York Theta. We recruit good, hard-working men to keep the traditions that alumni of our chapter and current brothers have set forth, such as the two major events that we co-host with other Greek organizations, Mud Tug and Winter Warrior.
Q: What makes Greek life at RIT different from Greek life at other schools?
A: Greek life at RIT will break down any stigmas that people have about fraternities or sororities on college campuses. Our community is filled with smart and dedicated individuals who all share a common goal of bettering the RIT campus and surrounding Rochester area. Additionally, each organization generally has an academic improvement plan for its members to take advantage of. We are all, first and foremost, at RIT for academics and it shows. The GPA of the Greek community is consistently above that of all of the students on campus. I believe that the sense of community and culture that RIT has stems from the example that the fraternities and sororities on campus have set and is a model of what Greek life at other universities should strive to be.
Q: Is it difficult to balance a major like electrical engineering with the time commitments of Greek life?
A: Maintaining a good balance between academics and a social life is a struggle for almost all college students, but being so busy with school work and my fraternal responsibilities has taught me how to manage my time very well. I have learned from many of my brothers who have much more on their plate than I do. I have to schedule my time and prioritize my responsibilities to succeed in school and do my best in the positions I take within Phi Kappa Psi.
Q: Recruitment week just finished. What did the week entail, and what happens next?
A: The first three weeks of the semester are rush weeks for all of the fraternities on campus. During this time, potential new members go to different events that each fraternity holds for both the chapter and the student to figure out if they would be a good fit to the organization. It is a crazy time for both the brothers of the fraternities and the potential new members, but it is one of my favorite parts of the semester. I love getting to know new people and telling them about all of the great things my fraternity has done for me as well as the RIT community. The next step is handing out bids, which means that each chapter will decide on which new people they think will best fit their organization. Then we invite them in.
Q: In what way has Greek life shaped to your college experience?
A: Greek life has totally changed my college experience. Not being a part of the Greek community for my first few years at RIT gave me a little bit of insight on how different being in a fraternity or sorority is. It has given me a reason to strive to be the best person that I can be and meet like-minded people who want to better themselves and the RIT community, which was something that I had never experienced before.
Q: What are your plans following your graduation from RIT?
A: After I graduate from RIT, I plan on going into the public sector to help design and engineer devices to help protect our country and the lives of people all over world. My studies and experiences that I have had at RIT and within Phi Kappa Psi have helped me prepare for any situation in the field that I plan on going in.
Lauren Peace compiles "Student Spotlight" for University News. Contact her at lmp1579@g.rit.edu with suggestions.