Student helps create RIT FoodShare program
Student Spotlight Olivia Verschage, third-year advertising and public relations student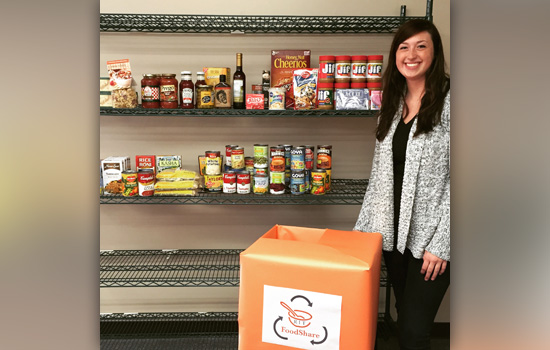 Olivia Verschage is a third-year advertising and public relations student and Rochester native. A co-founder of the RIT FoodShare program, Verschage has made it her personal mission to help reduce student hunger on campus. FoodShare's Facebook and Twitter pages post regular updates about free food around campus, and the organization will soon be opening an on-campus food pantry, the FoodShare Center.
Question: What brought you to RIT?
Answer: My mom works here and she's always talked highly of RIT. I wasn't sure what I wanted to do coming in, but I knew RIT was the school for me because it was like a second home while I was growing up. So I enrolled in the Undeclared Liberal Arts program until I decided what I wanted to do.
Q: Why did you choose to major in advertising and public relations?
A: During my spring quarter (that's weird to say now), I took Principles of Advertising with Mike Johansson and I fell in love with it. I wanted to learn about the how ads are created and why because they fascinated me. One fact we learned in that class continues to stick with me: in 1970, people were exposed to about 500 advertisements per day. Nowadays, people see nearly 5,000.
Q: What is RIT FoodShare and how does it work?
A: FoodShare's two primary objectives are to reduce food waste on campus and reduce food insecurity among RIT students. There are two aspects of the FoodShare program: the Facebook group and the FoodShare Center. The Facebook group is a place where anyone at RIT can post about extra food they have left over from an event or a meeting, and the FoodShare Center is where students and faculty can donate non-perishables. At the FoodShare Center, students can swap or take food based on their needs. We also have donation boxes across campus for convenience purposes.
Q: What are your goals for this semester?
A: We're working on making more donation boxes and installing them at more locations around campus. We're also trying to get fraternities, sororities and other clubs involved in this program. We have some events coming up that we hope will help drive more donations for the FoodShare Center and raise awareness about student hunger. Lastly, we really want the community to take advantage of the Facebook page by liking RIT FoodShare.
Q: How was the FoodShare organization started?
A: Last semester, Enid Cardinal and Rebecca Johnson were invited to come talk to my Campaign Management and Planning class taught by Kelly Norris Martin and they talked about how we have a problem with food going to waste on campus. They told us that a lot of food was being thrown out simply because RIT didn't have a program in place to properly redistribute it. It was our job as a class to come up with a way to fix this problem. After a semester of research and planning, our class project became the FoodShare program.
Q: What made you want to stay involved with the program?
A: I knew that after the fall semester ended Kelly and Enid would need someone to help continue the program. I talked to Kelly about how I could continue growing FoodShare and we decided an independent study would be best. I want to help the RIT community address this issue and be a part of something that can change the way we recycle food.
Q: Do you have any advice for other students?
A: Don't be afraid to go to the FoodShare Center to take or exchange food. We all need to eat and it's a friendly and safe place to just grab something quick and leave.
Q: Is there anything else you would like to add?
A: The FoodShare Center will be opening soon, so keep your eyes peeled!
Derrick Hunt compiles "Student Spotlights" for University News. Contact him at djh9758@rit.edu with suggestions.
Topics