Student photojournalism group honored
RIT chapter recognized for community outreach and fundraising efforts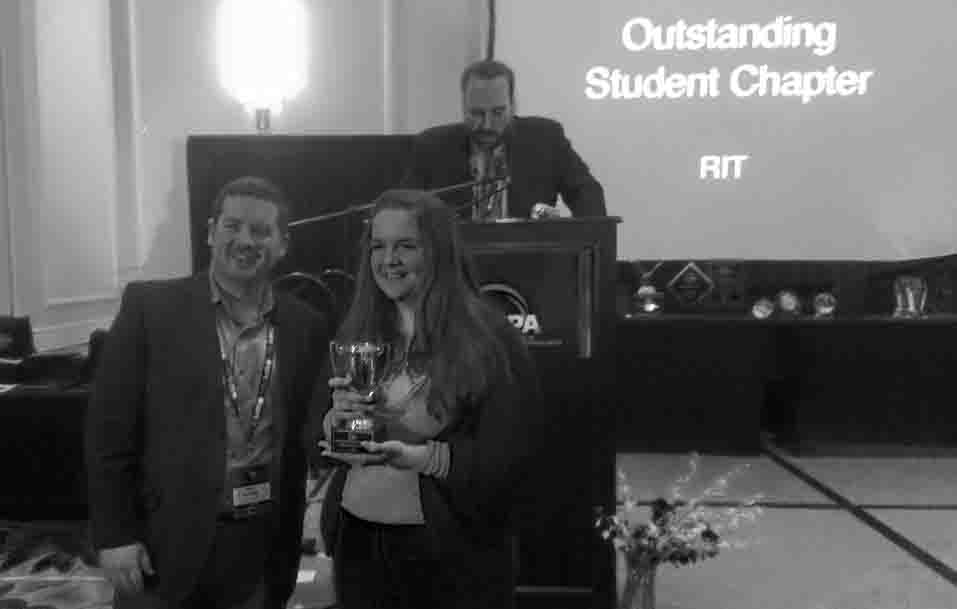 William Snyder
The RIT student chapter of the National Press Photographers Association received the Outstanding Student Chapter Award at the association's national program.
Jordan Roth, president of the chapter, accepted the award at the Northern Short Course held by the National Press Photographers Association in Iselin, N.J., Feb. 27-29. The three-day program of lectures and workshops gave Roth the opportunity to network with professionals in the field and students from other colleges.
"We as officers, current and past, have worked so hard to build this photojournalism community on campus and being able to receive this award on behalf of our chapter was truly an honor," Roth said. "My classmates and I who attended the program really connected with students from other schools and bringing those relationships back to campus has us really excited for future projects and collaborations."
Josh Meltzer, assistant photojournalism professor and chapter adviser, and William Snyder, photojournalism program chair and professor, nominated the chapter for the award because of the members' efforts to build the photojournalism community within RIT.
The chapter's mission is to provide an educational forum for students, discuss photo related topics and receive feedback on work they do. Members also aim to foster collaborations with underclassmen and upperclassmen in the photojournalism program.
"The photojournalism community is very small," said Jackie Molloy, vice president of the chapter. "Everyone knows each other and that's really important. Your peers are going to hire you one day, so we need to have respect for one another."
For 15 years, the chapter has been hosting "What We Do," a competition to showcase the best work from freshmen to seniors in the photojournalism program. The chapter recruits photojournalists in the field to judge the work and hold lectures. This year the winners' work will be displayed at Booksmart Studio in Rochester on May 6.
"I think hosting the 'What We Do' show helps us stand out because we are having an event that is showcasing the best work that we do," said Kim Bubello,"What We Do" chair. "We're encouraging and awarding students for doing great work within our program."
Helping young photographers outside of the RIT community is also one of the chapter's goals. Last semester, they hosted the holiday auction held by the School of Photography Arts and Sciences. The chapter or club that hosts the auction donates half the proceeds to the organization of their choice. The chapter donated the proceeds to Studio 678, an afterschool photography program within the Genesee Center for the Arts for middle school students attending Wilson Foundation Academy.
"The award pushes the chapter to do even better things next year," Roth said.
"We've come this far so we need to keep that momentum going. We plan on volunteering at Studio 678 and doing more fundraising events."