Student Spotlight: Engaging in lifelong learning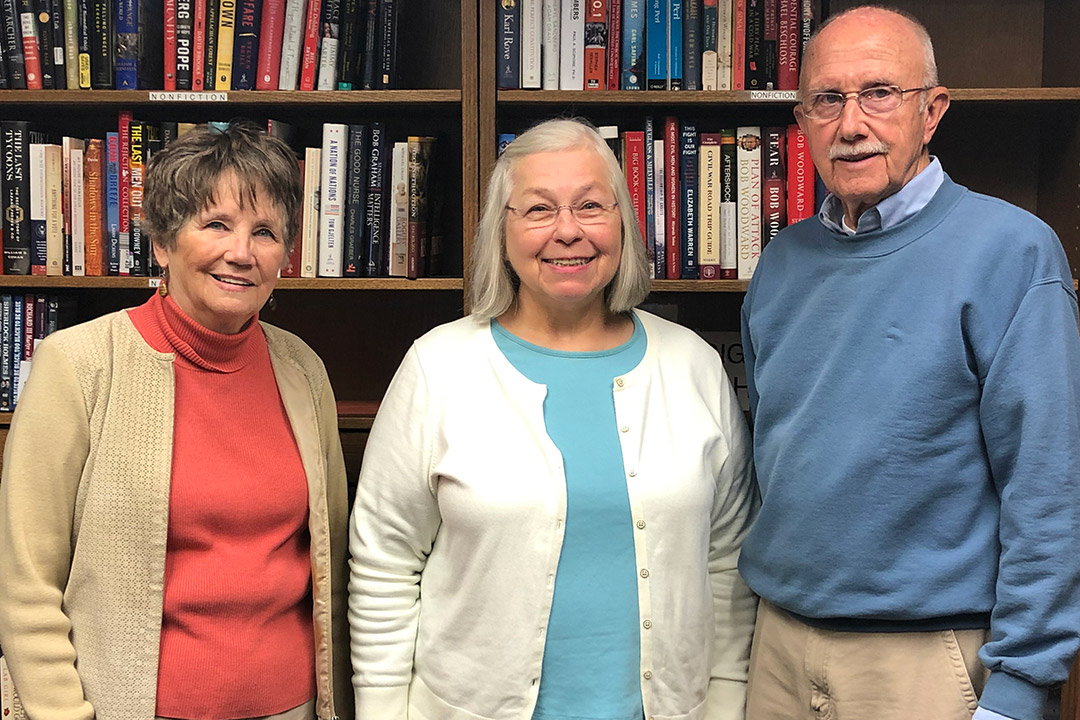 Mary Barrett, from Hollywood, Fla., is a retired teacher with a love for learning. Barrett has been a member and student at the Osher Lifelong Learning Institute for 12 years and has taken many classes with a focus on history and literature.
After earning her master's degree in English from the University of Rochester, Barrett became an English teacher. She was always interested in teaching history but never pursued it as a career. She didn't want to coach a sport and, at that time, although it wasn't a requirement, the majority of history teachers in her town also coached. Now, Barrett is using her time at Osher to explore history and other subjects that she wasn't able to during her career.
The Osher Lifelong Learning Institute, formerly the Athenaeum at RIT, is a member-led organization that offers a wide variety of academic, cultural and social programs and activities to enrich and inspire adult learners over age 50. In addition to being able to attend classes, programs and social activities at Osher, members also get some of the same benefits that RIT students have, such as access to the Wallace Library and receiving student admission rates for campus events.
With only three full-time staff members, the institute is led and kept vibrant by a community of people who have bonded over their love of learning. Barrett emphasized that both herself and the other members at Osher "enjoy the support of RIT and, of course, our benefactor, Bernard Osher."
Go to the Osher Lifelong Learning Institute website to learn more about becoming a member.
Why did you want to become a member of the Osher Lifelong Learning Institute?
I've always enjoyed learning and, before I retired, I learned about this program at RIT. It wasn't called Osher at the time; it was called the Athenaeum at RIT. Since I was still working, I couldn't get involved, but I clipped out the article from a hard copy of a newspaper, and I kept it. So, when I retired, I said, "OK, now I have the time, and I can do it." When you're retired and you're older, and you don't have health issues that hold you back, there's nothing better than getting involved with something like this.
What are the benefits of being a member that keep you coming back?
I come for two reasons: for learning and for social connections. They've both been fabulous for me. I love being here. I've made a lot of friends by being involved with Osher, and anybody can do that. Osher isn't just for a particular kind of person or personality. Like-minded people tend to gather, and most people who come to Osher want to learn.
What has been your most positive or memorable experience at Osher so far?
I think the service I've given for governance here. I've been on a lot of committees and I was chair for two years. That is all memorable for me. I would also say that learning so much about stuff that I didn't know before has been a great experience. Our world history classes have been some of my favorites. All our course leaders do a great job, but I would like to mention Marie Levin. She's been leading courses in world history for easily a dozen years, maybe a touch more. They're really popular and members just love them.
How does this experience compare to that of a traditional college classroom?
Nobody has to angle for a grade, so it's a lot more collegial. There are people who talk a lot and people who listen a lot. We don't have tests, and we don't have papers, so there are no formal evaluations that people need to worry about. A lot of people's motivation is to simply fit whatever they're getting from the class into their world view. Because we are older and have had more experience than the typical college student, we have a broader range of experiences to fit the stuff into. Also, there are no prerequisites; you can take what you want and learn about what you're interested in. You don't have to earn credits either. You just come and be involved with what you want.
Why do you think offering social activities in addition to classes is important for members?
As great as our course offerings are, I think the social aspect can be so beneficial for people. I think that people are generally social beings. At Osher, we seem to be all of the same age group, and yet we're not. The younger members have a different experience than the older members. Our average age is about 70, and we have about 700 members at a variety of different stages of life. When a person gets here and sees a few people that they know, or meets new people, it helps motivate them to come back. I think that the learning and socializing are both equally important to the members who come here.
Why do you think people should become members and be involved with the institute?
Being a member of Osher is a way to stay engaged and involved with living. As you age, a lot of things happen. You lose friends; you lose family members—it's a period of potentially great loss. A program like Osher helps ameliorate those kinds of experiences in one's life. I would say that being a member at Osher helps keep you energized as well. The energy that I get from Osher allows me to stay busy in other spheres of my life. It is a pleasant and worthwhile experience, and you can be a member as long as you want. As a member, you'll know you always have something to look forward to.
Topics