Student Spotlight: Game Symphony Orchestra competes in Dr. Munson's Performing Arts Challenge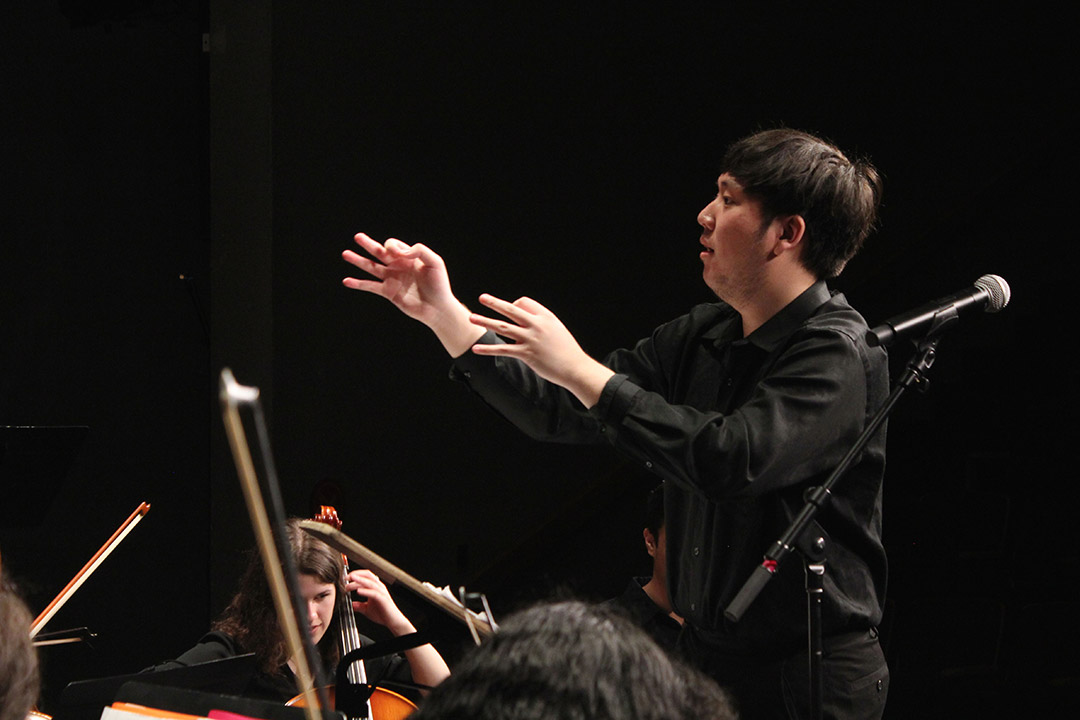 RIT's Game Symphony Orchestra was created in 2015 by Dean Nguyen when he was a freshman. Nguyen, now a fifth-year computer engineering technology major, founded this group after combining his enthusiasm for creating music and his hobby for video games.
While Nguyen is normally a conductor of RIT's Game Symphony Orchestra, he is returning to his roots to perform with a small ensemble at Dr. Munson's Performing Arts Challenge on Jan. 31. This will be the third consecutive year that the GSO has participated in this challenge, which is from 6 to 8 p.m. in Ingle Auditorium.
What made you create the RIT Game Symphony Orchestra?
I founded the group my freshman year just after a few months of being here. At the time I was in the RIT Philharmonic Orchestra. I was talking to my friend, Justin Levine, about video game music. As we talked, I became more interested in potentially playing video game music and I learned that there are groups around the country that perform soundtracks from video games. Being at RIT, I knew that there would be people here who wanted to be involved in something like this­—why not start a group? When we officially started in 2017, we had around 30 to 40 members. Now in 2020, we have about 80 to 90 members consistently coming to rehearsals every week. It is now a very developed group that has turned into something that I could have only hoped for as a freshman.
What's your favorite thing about conducting?
Conducting is not just waving a stick. What I really like about it is the teaching aspect. I get to create a two-hour plan for our sessions once a week, just like a professor. Every Monday we have rehearsal in the band room in the basement of the Student Alumni Union, from 8 to 10 p.m. I love having fun and try not to be a stern conductor. I'm a student just like them—I am no expert and I don't pretend to be.
Is preparing for Dr. Munson's Performing Arts Challenge any different from preparing for a concert?
Yes and no. In our normal concerts we have two separate sets, the entire orchestra and then a smaller ensemble made up of a few people. At the challenge, only a smaller ensemble will be performing. Four out of the six students who are in the group performed last year at the challenge. I will be joining them, along with one other member, which makes the preparation for this concert different for me. This year, we are playing a song called "Big Blue" from the game F-Zero, which isn't too mainstream. I will be playing a keyboard with a setting of synthetic sounds; this means that the keyboard will be making sounds similar to an instrument commonly used in 1980s funk music. There will also be two saxophone players, another pianist, a bass player and a drummer.
Do you know what you're going to do after you leave RIT?
Yes. I already have a full-time job lined up; sadly it is not in music. I will be working full time as an embedded software engineer at North Grumman in Baltimore, Md. But I do wish to keep music as a hobby in my life and maybe perform in a community orchestra or maybe even start another Game Symphony Orchestra in that area.
What do you hope most for RIT as you leave here next year?
Right now, I believe that performing arts is on the rise here at RIT. This is due to Dr. Munson and all his dedication to the creative side of learning. As I graduate and look back at RIT, I hope to see the arts programs expanding more and more into the university, inserting itself into the roots.
Topics