Student Spotlight: Heading to Game Developers Conference
Student SpotlightJohn Blau, second-year game design and development major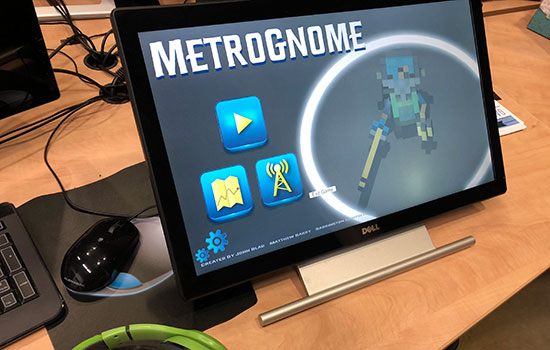 John Blau, a second-year game design and development student from Loudonville, N.Y., is the producer and game designer of MetroGnome. MetroGnome is a rhythm-based defense game for tablets and mobile devices that teaches users the basic principles of rhythm. The game originated as an idea for RIT's Imagine Cup Game Jam, a competition where teams come together for one weekend and create a game from scratch.
After Blau's success in Game Jam, he and his team—Matthew Barry, the gameplay programmer; Barrington Campbell, the technical artist and animator; Lilian Li, the user interface worker; and professor Tom Davis, the musical components guide—decided to develop the game further by working with the MAGIC Center.
After receiving support from MAGIC, Blau and his team put together a complete and comprehensive game in four months—an impressive feat for these game design students. MetroGnome was chosen to represent the MAGIC Center's commercial effort, MAGIC Spell Studios, at the Game Developers Conference and the Intel University Games Showcase from March 19-23 in San Francisco.
As the MAGIC Center approaches its fifth anniversary, stories like Blau's and the MetroGnome team show how valuable this resource is for students. More students like Blau will be able to realize their dreams and develop their personal projects as MAGIC Spell Studios continues to support student developers who want to publish their work.
Question: How did you come up with your idea for MetroGnome?
Answer: I was in a jazz ensemble in high school and one thing that always bothered our teacher was the trumpets; they could never play the proper rhythm for our songs. So he would stand up at the front of the class and clap out the rhythm so the trumpets could follow him. Inevitably, that would fail because the motion of clapping is very esoteric. You're trying to read notes and process them and translate that into a physical action while also paying attention to the conductor. If you don't know how to read rhythm very well, it's a difficult task. So the idea was to make a rhythm game that allows people to go through the process of learning rhythm. The game gives you feedback and tells you, "yes, the rhythm you played was correct," or "no, the rhythm you played was incorrect." The game started off as an RIT Game Jam game, where you come up with an idea and over the course of 36 hours, one weekend, you sit down and just code for basically the entire time. By the end of it, you've done the basic coding for a game. That is how we came up with the initial design of what we want to do. We knew we wanted rhythm, we wanted voxels, we wanted someone to be able to record their own music and put it into the game and stuff like that. We ended up winning Game Jam, so we knew we had a good idea.
Q: How did you get involved with the MAGIC Center?
A: After the Game Jam, Matt, a member of my team who had done things with MAGIC in the past, suggested we go get some feedback from Jennifer Hinton at the MAGIC Center. So we went down there and gave her the pitch and she told us to submit the game for selection for who MAGIC would take to the Game Developers Conference. Three days later, the application was due, and we sent our application off about a week and a half after the game was initially birthed. Later, we heard back and they told us that they wanted to take the game to the conference, and that's how things got started.
Q: Was it hard trying to develop a game in such a short period of time?
A: We didn't start working on the game in earnest until about the second week of November. It's taken a lot of work to bring it up to speed in such a short period of time. If you know anything about game design, you know that it's usually a very long process, so the fact that we've gotten this game super polished and have the systems ready in just four months is amazing. Especially with Game Jam games, there is no pre-design or pre-production of the game. Once you take a game that is mostly code-based and a week later attempt to blow it up into a much larger product with more meaning and depth than it originally had, not having done the pre-design thinking about themes and mood and tone comes back to bite you. Now, we have to do all of these things in tandem with development. It's a rushed timeline, but its spurred on a lot of creativity and we've generated a lot of support from the MAGIC Center because they recognize how hard we are working to get this ready in such a short period of time.
Q: What were the benefits of working with MAGIC to finish developing MetroGnome?
A: One of the biggest things that the MAGIC Center provided for us is a community of people to get feedback from. Those connections are really invaluable. They know people from around Rochester who are real developers and they know some of the best people who are doing work in games on this campus. A lot of students work with MAGIC specifically to get access to those connections. The second thing is that MAGIC gives your game exposure. A lot of times when you're making a game you can do a play test or two, but not many people hear about it. MAGIC has given us the opportunity to have a wider audience interact with our game, which is really amazing at a college level. The last benefit is that they give you space to work. Not having to find meeting spaces, not having to worry about when labs are open, when classes are going on and those sorts of things made working so much easier. In those spaces, they have commercial versions of a lot of different software, so if you want to go on to develop and release your game you don't need to worry about buying a commercial license for thousands and thousands of dollars because MAGIC already has these programs.
Q: As a student, how does it feel being included in a professional game development conference?
A: It's sort of surreal at the moment; things have been happening very quickly over the past few months. Really, I think that for a lot of people in game design this is an end goal, to work through the MAGIC Center and make it to the Game Developers Conference, at least it was for me. These are things that you don't think about until you're a third- or fourth-year. Just being at the conference, making those connections, meeting people and showing off your game that you're really proud of to industry professionals is super empowering, but it's also super weird to be there so soon. I think that between professors and everyone at the MAGIC Center, people have been so supportive of our team and our ambitions, and that is helping us achieve what we want to do so early on. All of us on the MetroGnome team are looking forward to learning a lot from this experience.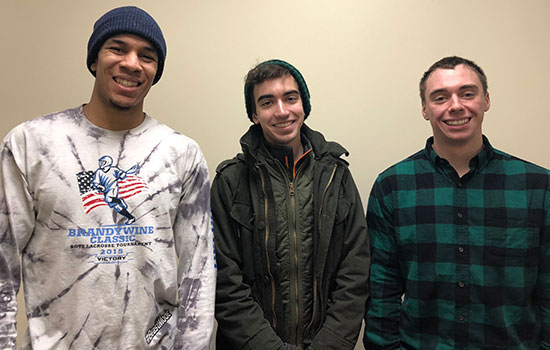 Topics