Student Spotlight: Refurbishing computers for the greater good
Student Spotlight: Josh Geise, fifth-year computing security student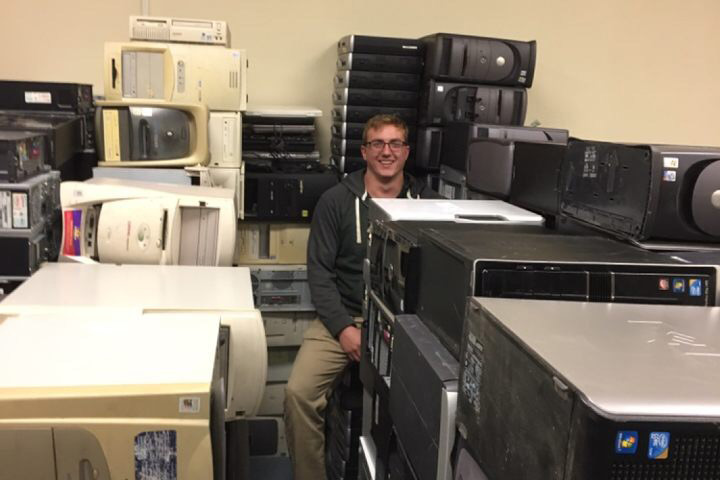 The Shore Foundation, co-founded by fifth-year computing security student Josh Geise, refurbishes and donates computers for those in need. Geise has been interested in computer refurbishment since he was in high school and participated in the Virginia Star Students Working to Advance Technologies program in his hometown of Dumfries, Va. When he came to RIT, he and Brian Martens '18 (management information systems), co-founder of the foundation, saw an opportunity to make an impact on the Rochester community by refurbishing and donating old computers. To make this impact, they recruited friends from Geise's fraternity Phi Kappa Psi: Chance Wright, a fifth-year student pursing a master's degree in business; Charlie Henle, a fifth-year mechanical engineering student; and Nathan Bracalente, a fifth-year mechanical engineering student.
On Sunday, Dec. 9, the foundation hopes to claim the "Guinness Book of World Records" title for the most computers donated in 24 hours. To achieve this goal, the Metropolitan Building downtown has allowed the foundation to use its space free of charge, allowing the group to have its event at a central location to make donating to the local community easier. The group will be setting the record, meaning that no one has ever attempted this record before.
More information about The Shore Foundation and their Dec. 9 donation event is available on their Facebook, Instagram and personal website, https://www.theshorefoundation.com/.
Question: What is the purpose of The Shore Foundation?
Answer: The Shore Foundation is a registered 501(c)(3) nonprofit whose goal is to fill a gap. We donate computers to people who need them and try to change their lives for the better by giving them the opportunity to help themselves out of their situation. Fifteen percent of American households don't have a computer, and we would like to help change that statistic.
Question: How did you come up with the name "The Shore Foundation?"
Answer: We were trying to figure out names and it was really difficult to nail something down. We were thinking of a lot of different names, but most of them seemed more like for-profit names. One name we came up with was RAW, Refurbishing for an Advanced World, but it seemed way too edgy for our purposes. We all live at a house that we call The Shore, and after hours of going back and forth and talking about it, I just said, 'how about The Shore?' Brian paused as he was walking up the stairs and said, 'that could work.' Since we had found a name that we were personally attached to, we decided on that one.
Question: Why do you think it's important to give children access to personal computers?
Answer: If you give a man a fish he will eat for a day. If you teach a man how to fish, he will eat for his entire life. When people think of nonprofit organizations, they think of people like Red Cross, Goodwill and organizations who provide basic essentials like food, water and clothing. All of those are very important, and with just those things people in the past would have been able to achieve the American dream no matter what. Now, it's so much different. If you don't have access to technology, you will have an extremely hard time progressing to where you want to be. There are so many job markets blocked off just because someone doesn't have a computer or knowledge of how to use it. The next Paul Allen or Bill Gates could be anywhere, including in households that don't have access to computers. Without this technology, I don't think a lot of people would be able to catch up.
Question: What inspired you to continue working in computer refurbishment with your own organization?
Answer: I've always been interested in the cause of helping people gain access to this technology. When I first started, I thought it was cool because I could learn more about computers and help people at the same time. Once I saw that first event, it changed my outlook on things. At first, it was something I was doing that was a nice thing. Then, when people showed up and I saw the look on their faces when they realized they now have access to this technology, something that they thought was so out of their price range and that they would never be able to obtain it, it was a really good feeling.
Question: Are you nervous about meeting your goal for the Guinness World Record?
Answer: Of course, any smart person would be nervous about that. It's a very big goal and it has potential for a lot of logistical problems. There are things we need to solve and iron out, but, even though I'm nervous, it's all coming together slowly but surely. We got a huge donation of computers from someone in New York City recently, and these kinds of donations and support just help push us closer and closer to our goal. We have created an environment at our office to ensure that the process can be done quickly, so now all that is left is executing what we've been preparing for: actually donating the computers.
Topics