Student takes fast track to master's degree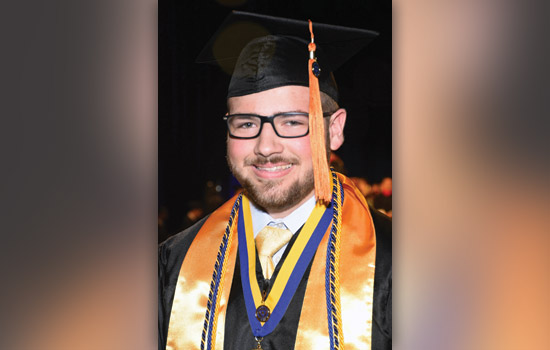 At age 18, DJ Richards is not a typical graduate student.
The networking and systems administration major from Howland, Ohio, is coming to RIT after a busy spring—having earned his high school diploma and associate and bachelor's degrees all at the same time. Now he'll add a master's degree to his already jam-packed résumé, which includes six jobs in computing and a business that he started when he was 16.
"I've always really liked tinkering around with computers," said Richards. "I don't see it as work because I really enjoy it."
Richards began taking college classes in ninth grade, after being accepted into what is today known as Ohio's College Credit Plus program. The program allows students to earn college credits for free, while earning high school credits at the same time.
After starting with three college courses his freshman year, Richards got the bug. By sophomore year, he wasn't taking classes at the high school anymore. "I was learning a lot more and it really gave me a head start on my education," Richards said. "It's really a testament to the program because what you learn is applicable to what you can do in your career."
In order to focus on his college program, Richards was able to waive some traditional high school classes, including Career Search and Spanish. He does admit that sometimes it was a little weird being the youngest person in a college classroom.
"During introductions, we would go around the room and some people had worked for years or been in the Navy," said Richards. "I would say, 'Hi, I'm 13 and my mom drove me here.'"
Last spring, Richards completed his associate degree in applied business in computer technology from Kent State University Trumbull Campus and a bachelor's in technical and applied studies in computer technology from Kent State University.
"DJ is genuinely curious, detail-oriented, organized and works to broaden his understanding of whatever he takes on," said Noelle Bowles, associate professor of English at Kent State Trumbull. "That all sounds like obvious successful student behavior, but in combination, I've found them to be rare qualities."
Richards has also applied his studies to his own business, working to manage the computer networks of area small businesses. He has also had full-time opportunities, including at Flex-Strut Manufacturing, where he will continue to do work remotely during his degree program.
"It's tough getting companies to understand my particular situation, but everybody has been so great at bringing me aboard and giving me real- world experiences that complement the academics," said Richards.
At RIT, Richards is excited to work with new virtualization platforms, hoping to gain skills that allow him to move up into a management position someday. But, for now, he says the master's degree won't be accelerated.
"I plan on taking the full two years to graduate."
Topics