Student teaches computers to understand images
Abdul Haleem Syed's wins best paper for automated image analysis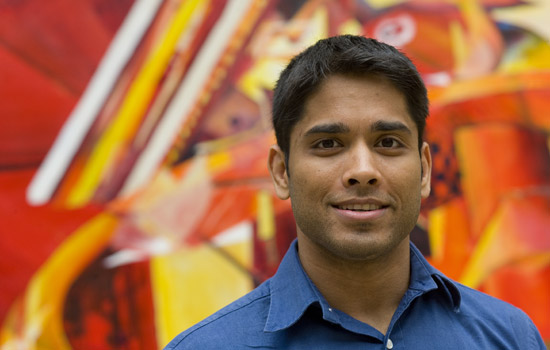 Image analysts can see the avalanche coming. A mountain of satellite imagery is growing faster than the rate at which they can turn data into useful pictures, such as a Google map.
Rochester Institute of Technology graduate student Abdul Haleem Syed '08 (B.S., electrical engineering) is working to prevent imagery overload.
"Two hundred-eighty Earth observation satellites will be launched this decade compared to 135 launched in the previous decade," says Syed, from Hyderabad, India. "That is a lot of images of Earth being collected but someone—usually an image analyst—has to manually work with these images to extract important information."
Efficiently extracting useful bits of information from an image of a larger scene is at the heart of Syed's doctoral research at RIT's Chester F. Carlson Center for Imaging Science. He presented his novel research methods at the International Conference on Geographical Object-based Image Analysis May 7­–9 in Rio de Janeiro, Brazil, where he won best student paper for "Encoding of Topological Information in Multi-scale Remotely Sensed Data: Applications to Segmentation and Object-based Image Analysis."
Syed co-authored the paper with his advisors, Eli Saber, professor of electrical engineering, and David Messinger, director of the Digital Imaging and Remote Sensing Laboratory in the Center for Imaging Science.
"My work involves teaching computers to understand images," Syed says. "We want a computer to be able to look at an image and say, 'That's a road, that's a building, and that's a military compound.' "
Completely automated image analysis is Syed's ultimate objective.
"Our more immediate goal is to reduce the burden of manual interpretation by developing tools that will help image analysts deal with the massive amount of satellite data that is being collected," he says. "The paper I presented in Brazil helps solve a small piece of this big puzzle."
Syed expects to graduate with his master's and doctoral degrees from RIT's Center for Imaging Science in May 2013. He looks forward to a career pursuing research in academia or industry.
Topics