Student team proposes energy retrofit of town hall
Team proposes energy retrofit of local town hall to take advantage of new lighting, solar power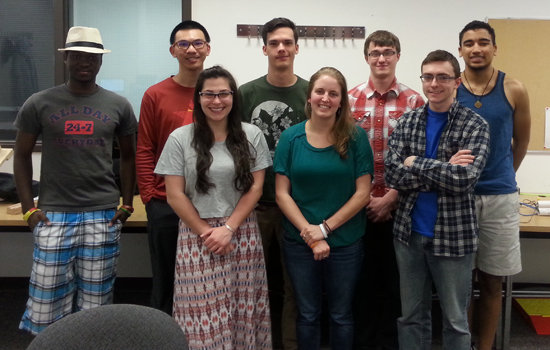 Undergraduate electrical/mechanical engineering technology students at Rochester Institute of Technology will try to make the Irondequoit Town Hall greener.
Their work is part of the Green Energy Challenge, a national student-design competition sponsored by the National Electrical Contracting Association. Student chapters of the organization participate annually on a design project to perform energy audits of power and lighting systems as well as detail how alternative energy systems can be incorporated into facilities.
RIT's student-chapter, established two years ago, submitted its plan for the energy retrofit of Irondequoit Town Hall, a multi-purpose, government building located in one of the university's suburbs.
The student team toured the Town Hall and did a general evaluation of existing conditions, working closely with Bob Kiley, deputy commissioner for the Town of Irondequoit, said Shaun Henry, a fourth-year electrical/mechanical engineering technology student in RIT's College of Applied Science and Technology. Kiley provided some electrical and gas-usage data as a baseline for estimates to see how the team might be able to recommend different energy improvements, and shared information about how the town conducts its own energy audits to continually increase efficiencies. The student-proposal focuses on a broad plan to improve lighting within the Town Hall, particularly to tap into ambient light that could be used as part of a solar array, and how the town might incorporate micro-grid capabilities.
"I like the whole alternative energy aspect and looking beyond traditional means for solutions," said Henry, originally from Willow Grove, Pa. "Being able to investigate photovoltaics and fuel cells or wind turbines—which we didn't do for this project—but this project was about helping the town look at up-and-coming technologies and how they can play a role in the future."
The student team will be available to talk about the energy retrofit project at the upcoming Imagine RIT: Innovation and Creativity Festival from 10 a.m. to 4 p.m. on Saturday, May 2, on the RIT campus. Their exhibit will be located outside Technology Hall. They also will discuss general energy efficiency recommendations for homes.
Henry is one of nine students from the program on the project's design team that also includes Daniel Appiah Mensah, Joseph Repass, Josh Feldman, Giovanna Patrizio, Kelsey Kiefer, Nicholas Flumerfeldt, Kuanju Chen and Sean Blackey, along with faculty adviser David Krispinsky, associate professor in the electrical, computer and telecommunications engineering technology program. The finalists will present their findings at the NECA convention in September in Chicago.